Smallman Galley is one of my favorite places in Pittsburgh to enjoy fun, creative, and delicious meals. The galley is a co-op space for budding chefs looking to test their own restaurant concept, a "launch pad for the best new restaurant concepts in Pittsburgh." The space has four fully outfitted kitchens, two bars, a coffee shop, with open seats for guests, providing the infrastructure for chefs to test their concepts with low-risk and low-cost. Aka a recipe for truly innovative, interesting dishes with plenty of variety offering something for everyone. Residents Iron Born Pizza and Banhmilicious are continuing veterans this summer with HOME and Joey's Snack Bar as new.
Throughout my multiple visits, I have never been disappointed with a meal here, but recently I had one of the best experiences here with a group of fellow foodie enthusiasts. My friend Alex of Alex Eats Too Much organized a tasting for us appreciative foodies, including:
We we're lucky enough to indulge in delicious offerings complementary from the galley and the chefs. Keep reading for a look at foodies in action and some of my favorite menu items. You're going to want to add these dishes to your list for next time you're hungry in the Strip District. Hope your phone's ready for some of the most Instagramed dishes in Pittsburgh!

Garlic Cream – Local Mushrooms – Boursin Ricotta – Local Honey (from my friend Travis of Paul Family Farms)  – Appenzeller Swiss makes a truly perfect sweet and savory combination! I really need to return to indulge in this pizza pie again, and soon! Plus this pizza is prime for an amazing cheese pull – check out the Pittsburgh Pizza gal herself in action below!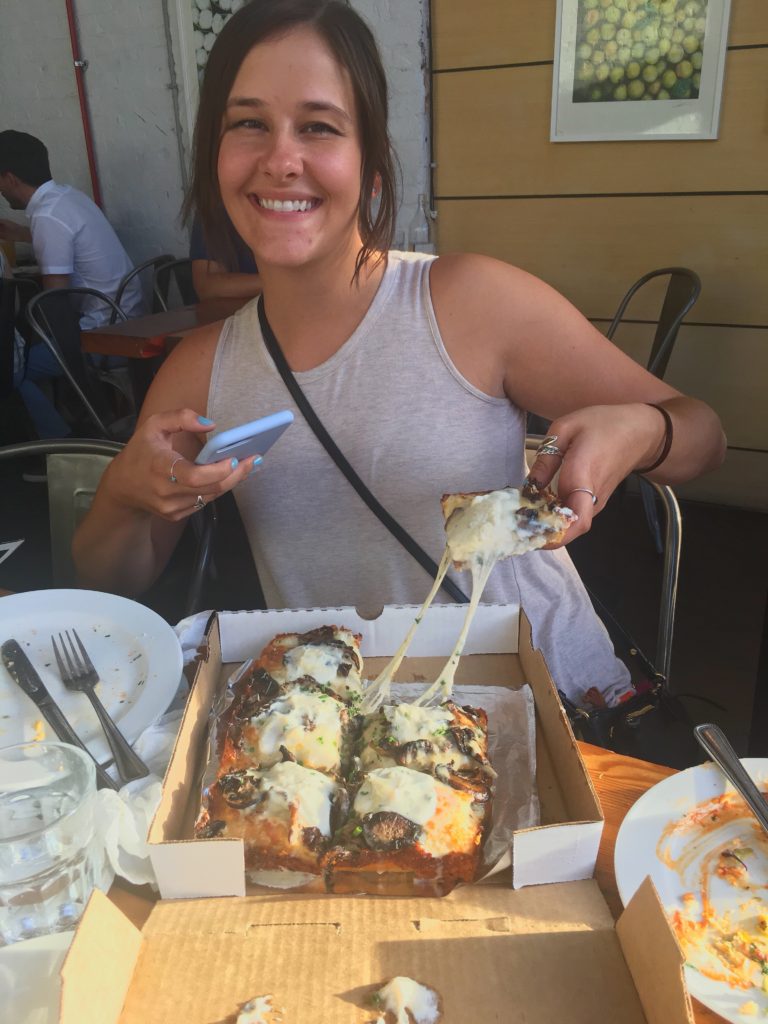 Hot Fried Chicken Poutine by HOME
The Hot Fried Chicken Poutine is a fun and unique "Secret Menu" item by HOME. I'm not a poutine fan, but this dish I enjoyed. HOME uses a creamy cheese sauce in place of gravy, and chopped pickles! The chicken was light and flavorful and the fries were nice and crispy. I kept going back for more.
Chicken and Biscuits by HOME
Chicken and Biscuits with Pimento Cheese Grits also by HOME is another delicious dish featuring the fried chicken. The biscuit is really made well, nice and moist.
Crispy Sprouts by Joey's Snack Bar
Another addicting dish is from Joey's Snack Bar, the Crispy Sprouts. I could not stop eating this dish with delicious charred corn, pickled onion, smoked chili aioli, lime, herbs and cotija cheese. The combination is truly tasty!

Dirt Pie by Joey's Snack Bar
For dessert we all fought over the Dirt Pie from Joey's Snack Bar. This dessert features silky, cream layers of chocolate and rich cream with cookie crumbs and flaky salt. This is my kind of dessert! Definitely leave room for this when you visit Smallman Galley.
Thank you so much to Alex for organizing our foodie meetup, and to Smallman Galley and the Chefs for sharing their delicious food with us.