This past week I had the pleasure of dining at Pittsburgh's most exciting new restaurant Poulet Bleu, a charming french bistro. I was lucky to get a random open reservation for 7:45 on a Thursday. This new spot is booked for months out, for many good reasons!
The location is beautiful inside and out. To start, guests enter through a beautiful open courtyard with french music playing, a fountain, and yellow stripped awnings.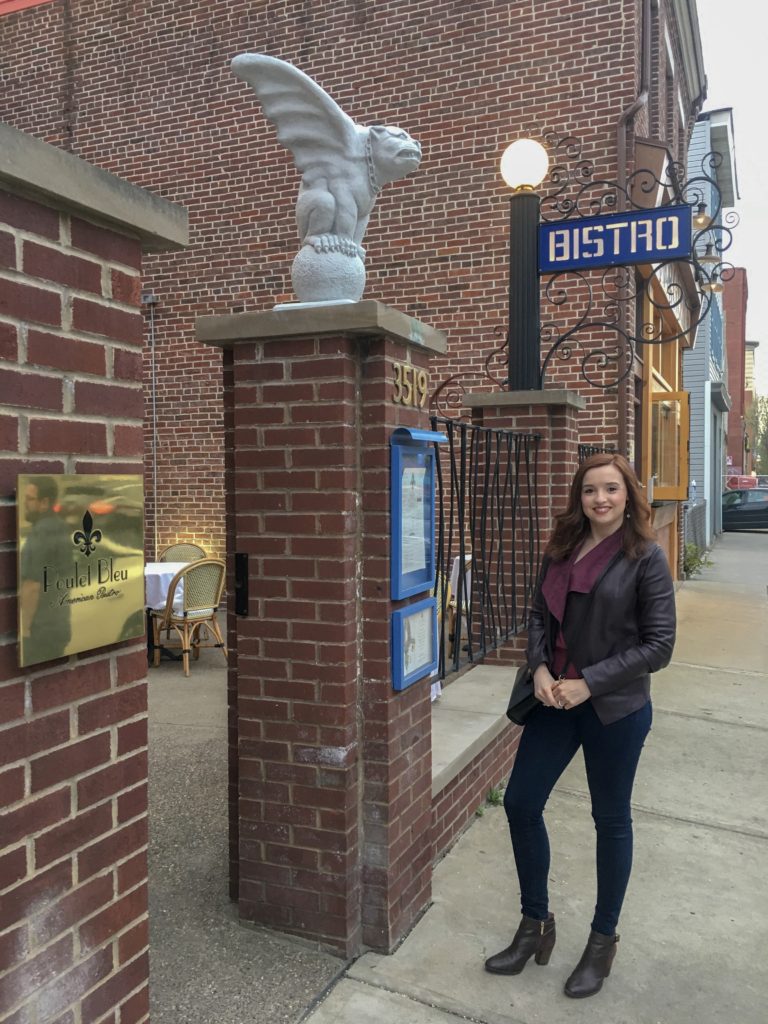 The entrance area features a long bar. I loved the touches of gold and the antiqued mirrors in the bar space. Tip: its first come first serve, you can order a full meal and its empty on Pens game nights.

I know I keep using the term charming, but the design and decor truly brings this small spot to life. I love the gold light fixtures, blue hues and white marble throughout. The bathroom houses my dream sink + faucet, and there's many beautiful mirrors framed in flourishes throughout the space.

It's so unique that the kitchen is in the center of the dining space. I couldn't stop staring at the chefs preparing food in the open kitchen. Next visit I want to sit right at the island up close for the show.

We enjoyed a few starters or "petit plats." Including the french onion soup made with braised oxtail, cognac veal stock and emmental, gruyere cheeses. The best part is the floating bread smothered with cheese and crisped flowing over the edges of the bowl. Definitely rich and could be a meal in itself. Also enjoyed the mussels in a creamy sauce with fennel, garlic, white wine and fresh herbs. 

 
For a main dish we shared a 12oz prime NY strip paired with cognanc pepper sauce and pommes frites. Steak and french fries are already a great combination, but at Poulet Bleu this was an extra special treat. I really enjoyed the tender steak and the flavorful
red wine caramelized onions it was served with. The super skinny frites were delicious, crispy and salty. 

For dessert we indulged in the already famous chocolate souffle. It's a fun pouf of chocolate served with accompaniments banana ice cream, cherry compote, candied pineapple, chocolate sauce, and a delicious creme anglaise.
 
Cheers to exploring another unique dining spot in Pittsburgh!  I can't wait to return to Poulet Bleu! I've already made a lists of things to try, like the cheese plate and the Parisienne gnocchi.
My grainy iPhone pics don't do this place any justice, I would encourage you to check out these professional pictures by Adam Milliron in the Eater review.