The only bathroom in the investment project apartment needed a complete bathroom remodel overhaul. It was so outdated. Plus, can you believe this place NEVER had a fan or ventilation of ANY KIND?! Gross. Water equals germs and mold. And there was a plywood ceiling, plus a dinky light. Thus a full bathroom budget remodel was a necessity in this flip project.
Bathroom plumbing, tiling and fixture installation was all handled by semi-professional contractors. I say semi because the work was done by a friend's guy, whom in my high standard of opinion, is not up to par. In the midst of renovation I had to remind myself  that it's not my place to expect or demand more. Again, this is not my home, nor my investment project. I constantly struggle with knowing my place on this project. I care, but I shouldn't care too much. Not worth it on this project.
Anyways –  don't get me wrong the bathroom turned out fine, there was just room for improvement in execution. A lot of work was done in a short amount of time, for an affordable price. The ceiling was replaced with today's sophisticated drywall actually suitable for bathrooms. The shower was tiled in with new hardware and framing. The floor was tiled. The vanity was replaced and a new light fixture installed. A new toilet was a installed. And most importantly a fan with proper ventilation to the exterior was installed.
Below is the tile that we selected from The Home Depot. The BF's requirement was that the tile had to be less than a dollar per square foot. My (more important) requirement was that it didnt' have atrace of brown, beige, orange or red. This was a big, stressful decision just because we had a lot going on all at the same time. We were both feeling the stress of the fact that this project is all risky, uncharted territory for us – especially as a young couple.  We settled on this oversized grey tile with a marbled or polished finish. Grey tile was a safe, neutral choice for this rental, but also more modern and clean than a tile with a warmer undertone would be.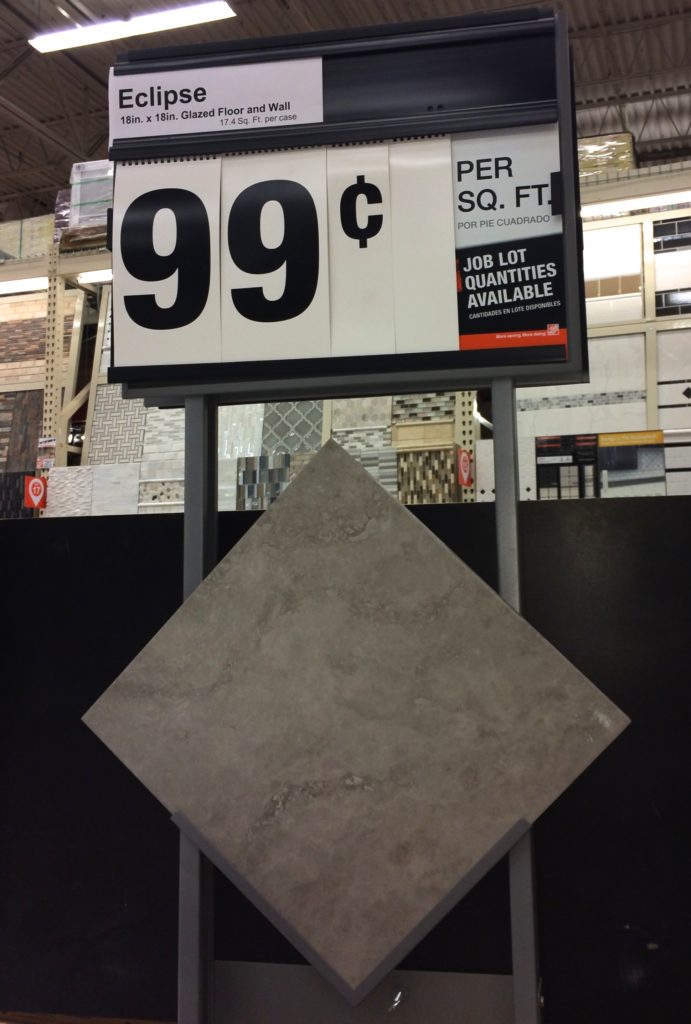 Selecting to grout was also an important choice. We went with a very light and creamy grey, not making too much of a statement in contrast. I was just not really a fan of the idea of using a stark white or dark grout, too much of a contrast for this type of generic apartment.
We did have a post purchase meltdown. After all the tile is a big investment of money for the materials and labor, plus its going to be all over the bathroom and permanent. I don't remember who had the thought, but suddenly someone was VERY upset that we had chosen the wrong tile. The meltdown included thoughts like:
 This tile won't look good.
Why did we choose such a BIG tile?!
Did we even get a tile made for walls versus flooring?
Can all tiles be placed vertically?
What if its too big and heavy to lay vertically?
The freak out was real, panic ensued. I felt guilty and responsible since I had said I'd own the choice when we selected the tile. By the way, there's little information out there online to help a frantic person figure out if any tile can be used on vertical and or horizontal surfaces.
But it turns out, all is well that ends well. The tiling looks AMAZING for the insanely low cost effort. I personally love the huge, modern, sleek tiles for this rental.
https://www.instagram.com/p/BKHVa5ZD3sc/?taken-by=moscatoismymantra
Save
Save
Save
Save
Save
Save
Save
Save
Save
Save
Save
Save