The Grand Concourse Restaurant is a place most proud Pittsburghers know and frequent for special occasions. As their website boasts, most Pittsburghers find this destination of fine dining to be "unmatched in grandeur". I would, for the most part, agree. This grand historical building and the glamorous décor details create an amazing fine dining ambiance. Although I am very grateful, and consider myself lucky to be treated to a dinner here, I was slightly disappointed in some aspects of the food.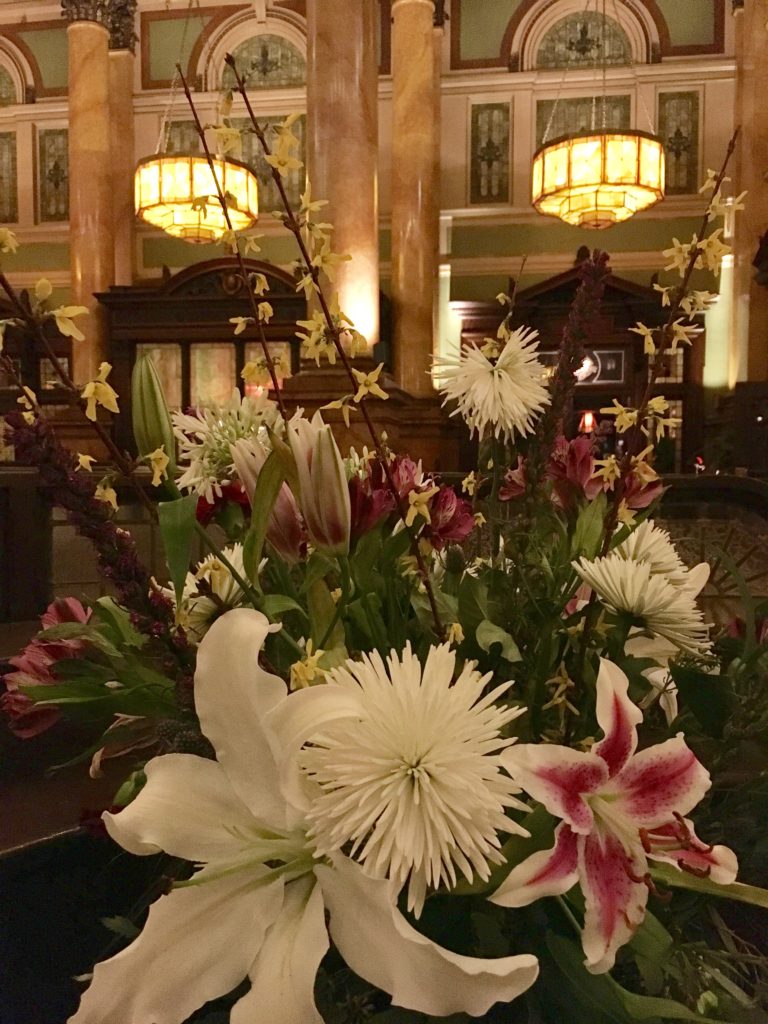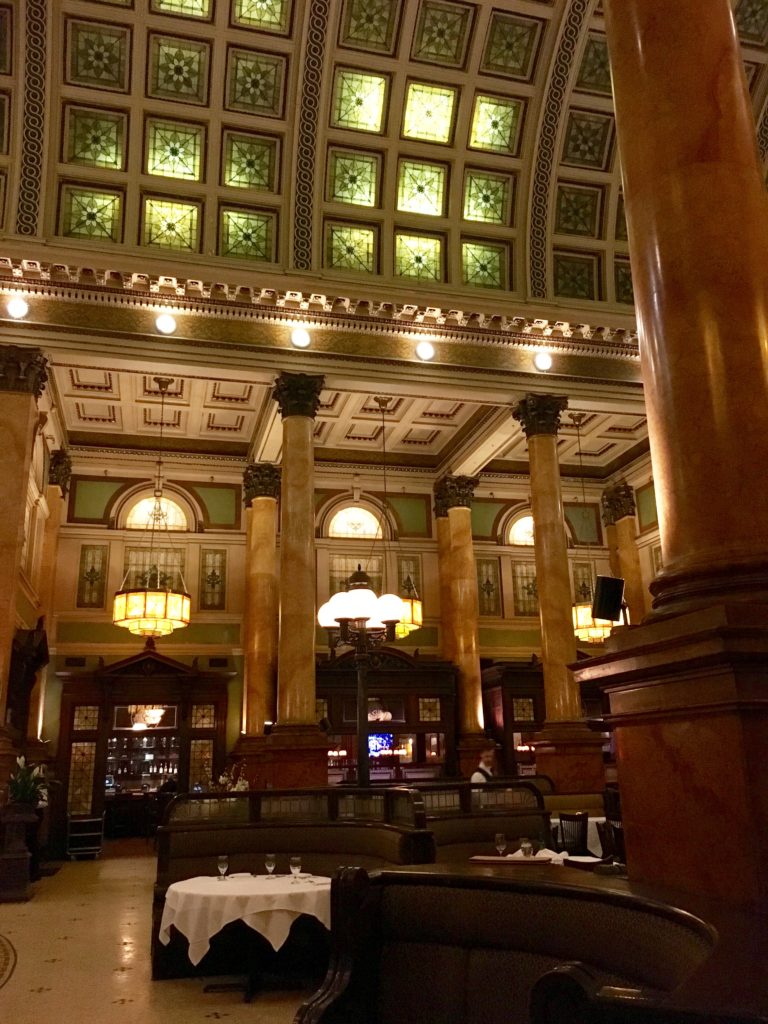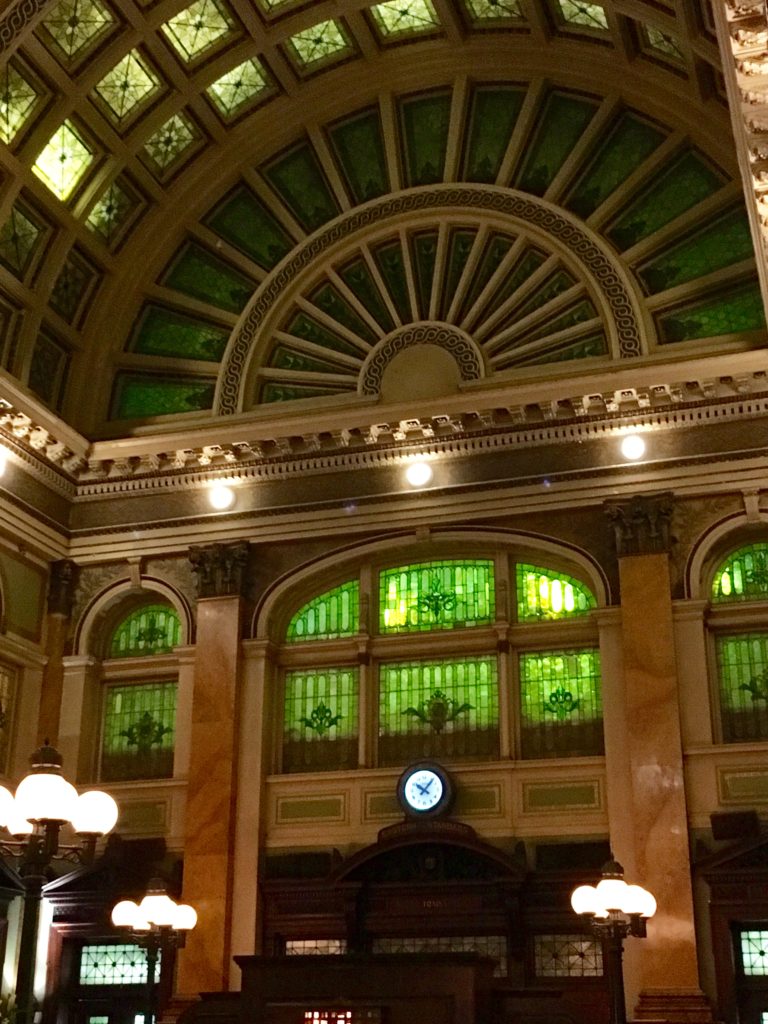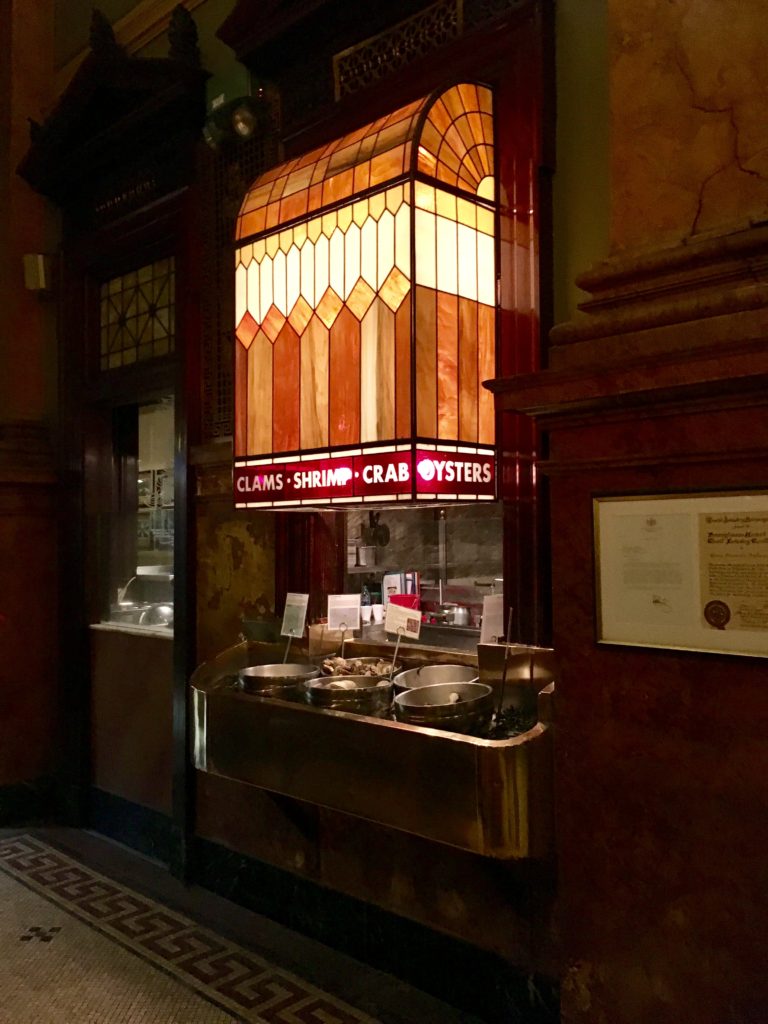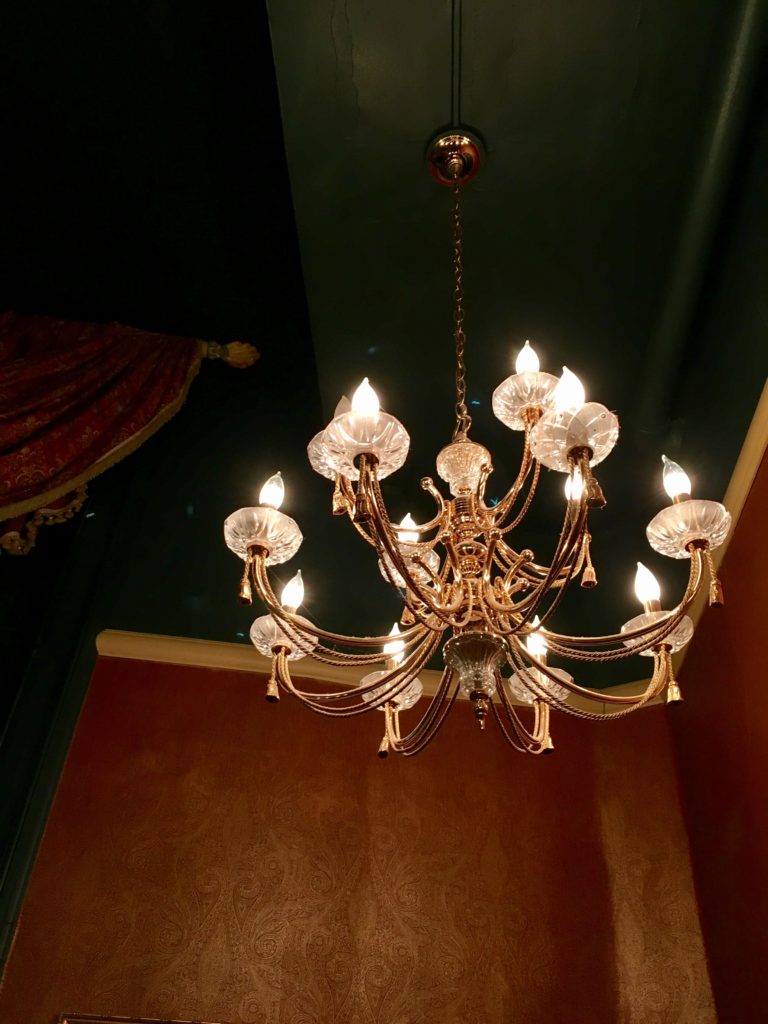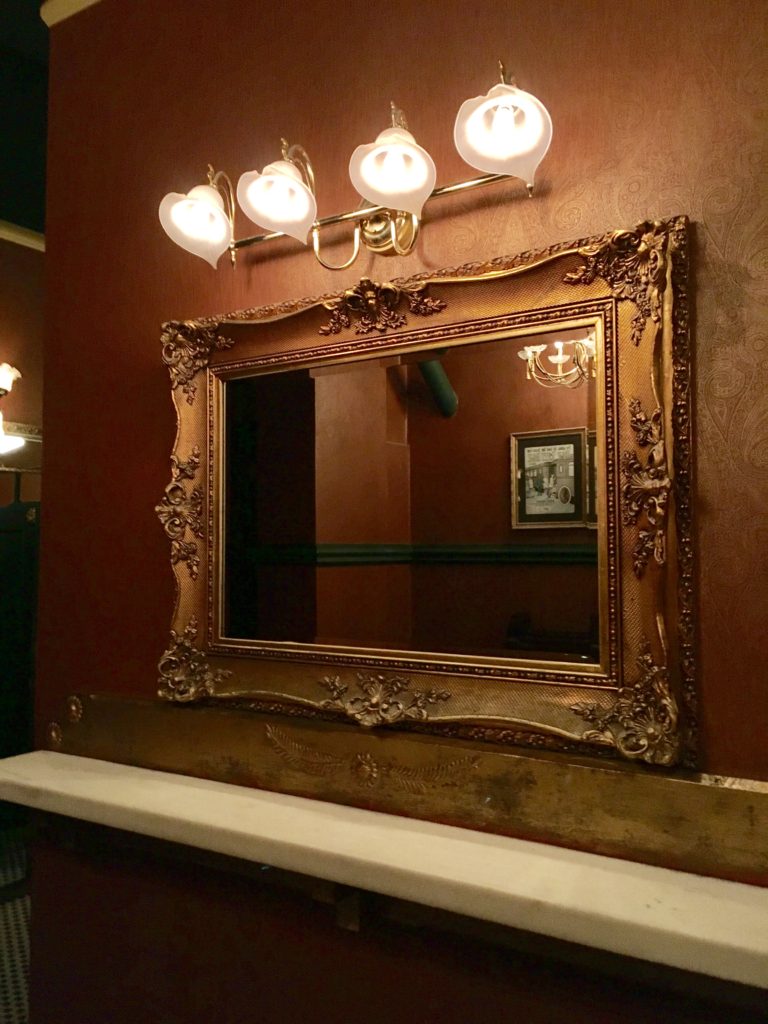 As a former railroad train station, the Grand Concourse preserves the charm of the Progressive Era. With statement cathedral stained-glass vaulted ceilings, marble columns, and a dramatic staircase, guests are easily impressed. I know I certainly feel the elevated atmosphere as I enter the formal restaurant. With all of our city's modern transformations, it's nice to visit a place so authentically historic. Beyond the main dining area, is the waterfront dining section, offering views of the downtown cityscape and the Smithfield Bridge.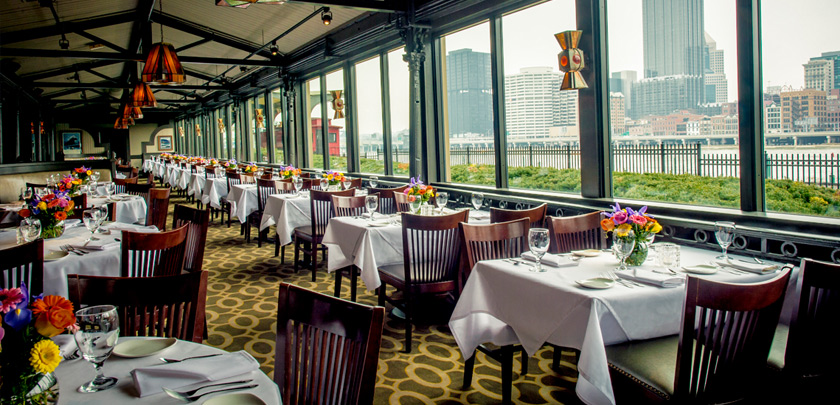 Grand Concourse is best known for its award-winning opulent brunch buffet, which I have fond memories of attending regularly as a child. My most recent visit was an overdue Valentine's day dinner. My Valentine booked us for an 8:30 reservation on the Saturday post-holiday. Even though we arrived 10 minutes early, we still had to wait about 15 mins past our reservation time for our table. This wait was  disappointing, but allowed me to decide what to order from the vast Dinner menu. While waiting, a very upset customer complained to the maitre'd that his table's meal arrived cold 45 minutes after ordering. As we walked to our table the main dining room appeared full, but the waterfront area was only half seated.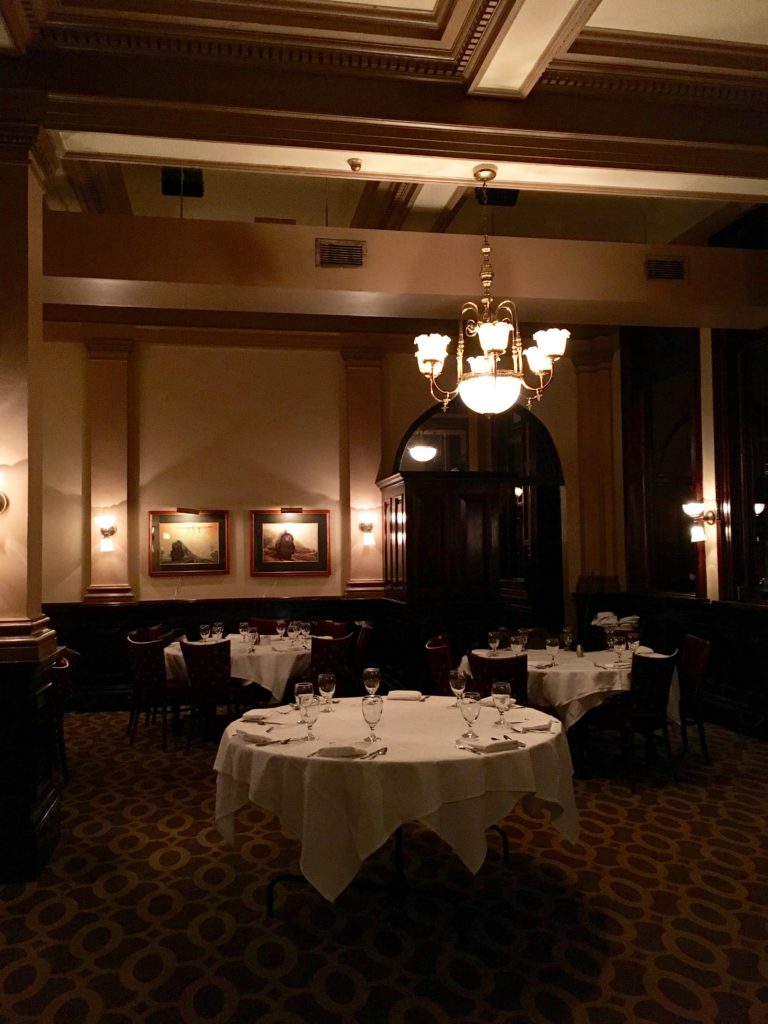 To start we received delicious, warm buttery bread rolls and crackers paired with a rich smoked salmon pate spread. I ordered a lobster bisque and my BF ordered a Seasonal Goat Cheese Salad of strawberries, candied pecans, poppy seeds, with white balsamic and a warm goat cheese crouton.
My thoughts that the kitchen was behind and understaffed, were confirmed as my soup did not arrive until about 10 minutes after my BF's salad did. When it did there was soup on the edge of the bowl and splatted on the rim…!?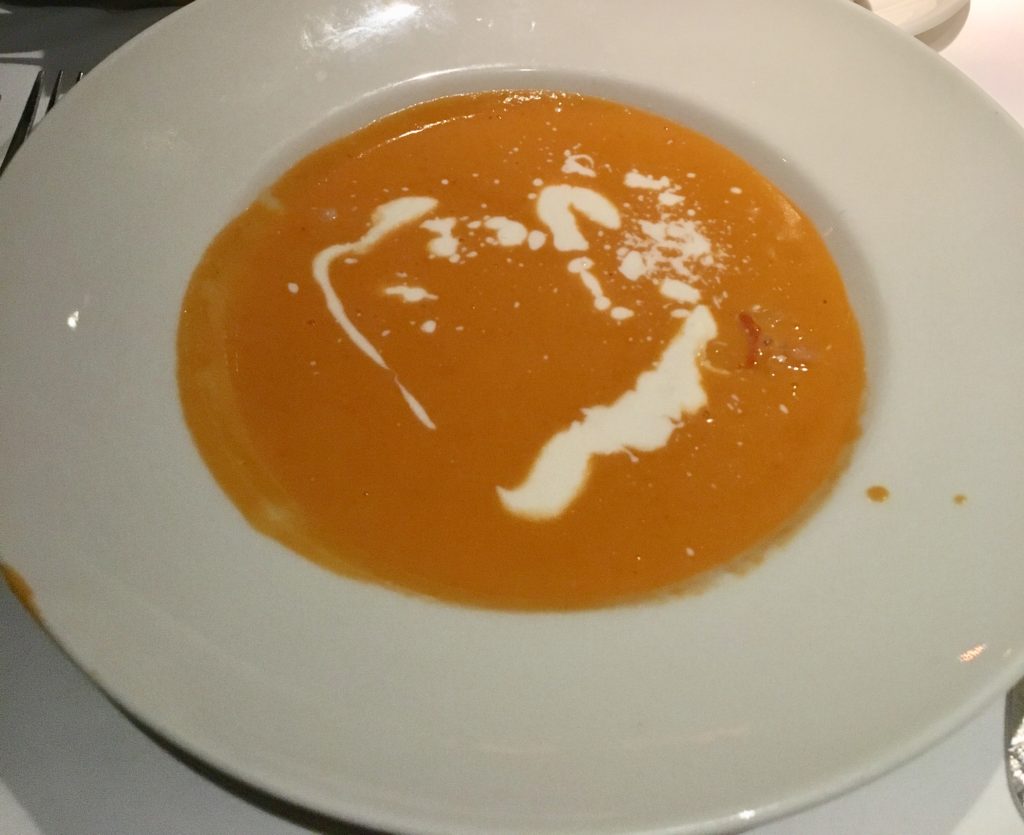 I did not enjoy the soup. It was very one-noted with only the taste of creamy lobster stock. But somehow still with only a tiny about of actual lobster in it. I craved seasoning, green onions, vegetables, or really anything at all to break up the single boring thick lobster stock element.
Overall, my main dish did not disappoint. I ordered the Ultimate Seafood Mixed Trio of  grilled salmon, crab cake and coconut macadamia shrimp. I enjoyed all three. The salmon and crab cake were of great quality, moist, and cooked well. The coconut shrimp were flavorful, crispy and not at all greasy.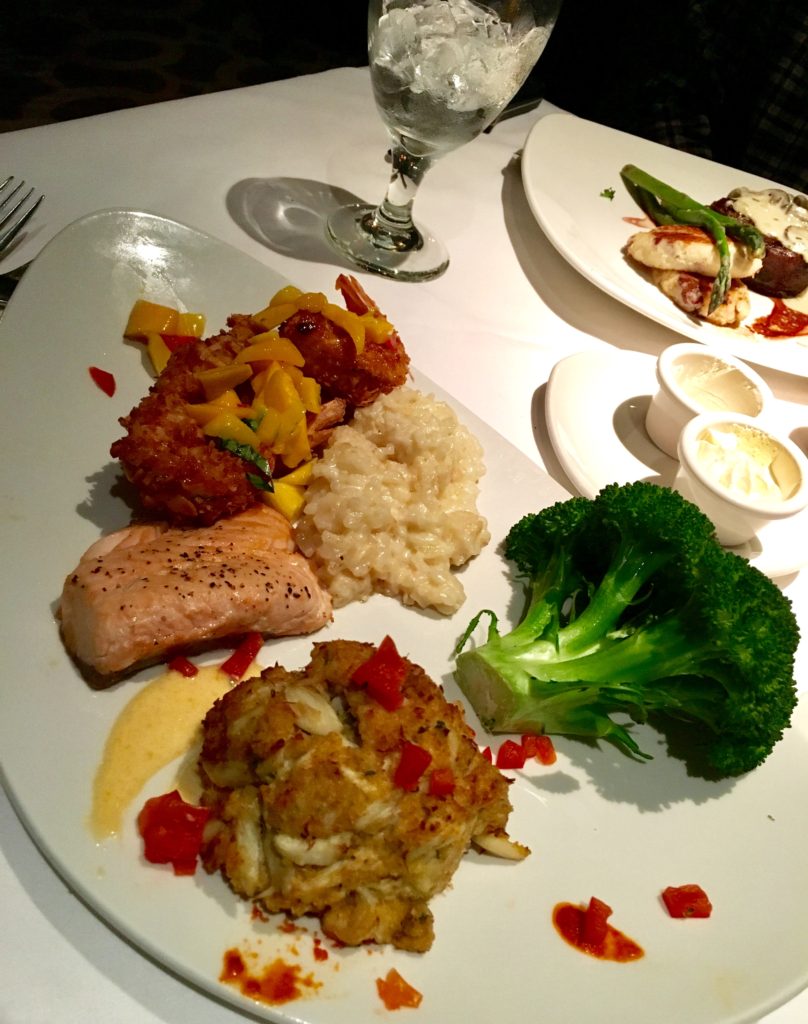 The sides on the other hand were lack luster. I selected the side of parmesan risotto to go with it, but was not impressed. It just seems like cheesey rice to me. The kind sold as a rice side from the grocery store, in the cardboard box with the special seasoning package. I usually LOVE a flavorful cheese-based risotto, so I was disappointed. I had ordered asparagus, but was given broccoli. It came in this huge chunk, without the leaves even removed. Seemed an odd, no-effort-required way to serve broccoli. At a fine dining place I expect more. All they did was chop a huge chunk off the bushel and steam it. I didn't bother to even try it. When I go out to eat I want to have food that I couldn't have prepared myself. I put more effort into preparing my broccoli at home.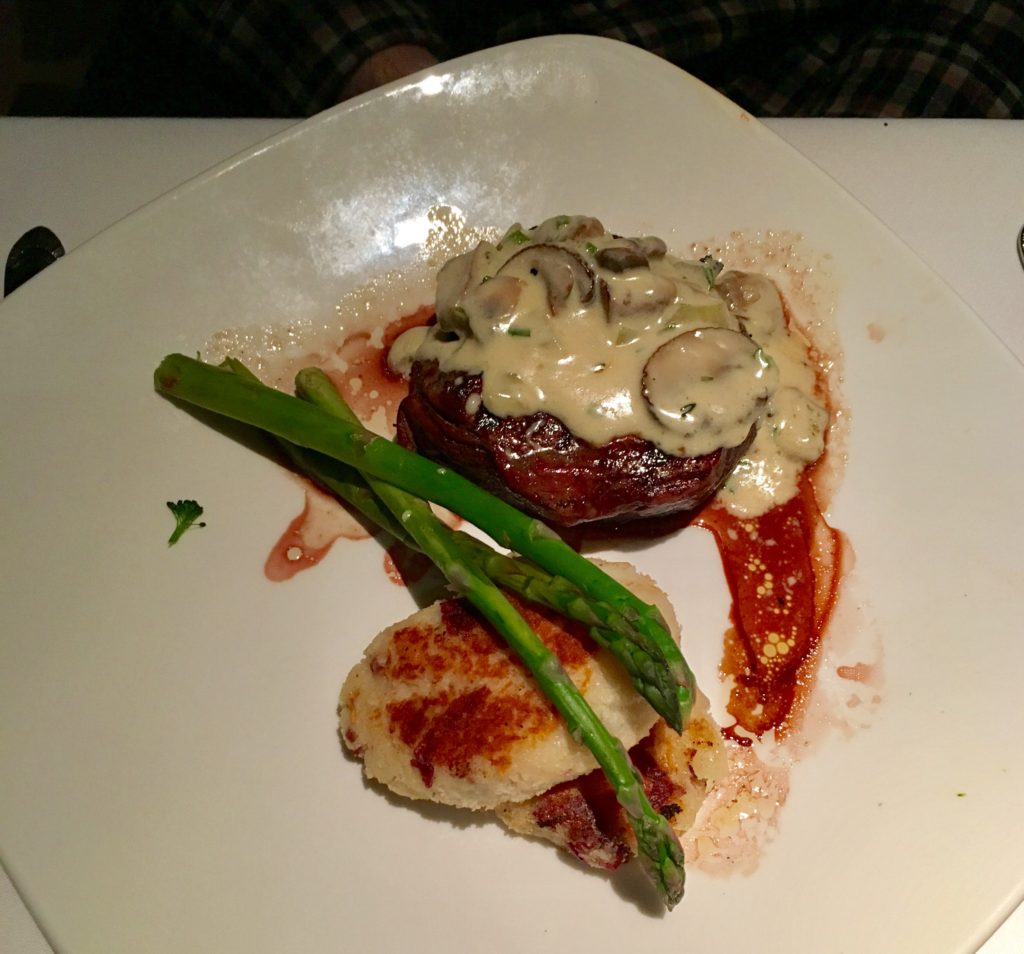 My boyfriend enjoyed his Filet Mignon prepared with maître d'butter. He did note it didn't seem to match the price, compared to other exception filet experiences he'd had elsewhere. Again the sides of reggiano potato croquettes, asparagus did not live up to much. The "potato croquettes" actually just seemed like dollops of bland mashed potato that had been fried to achieve a crispy outer shell. Again seemed to be lacking unique flavor to make this side truly enjoyable and delicious.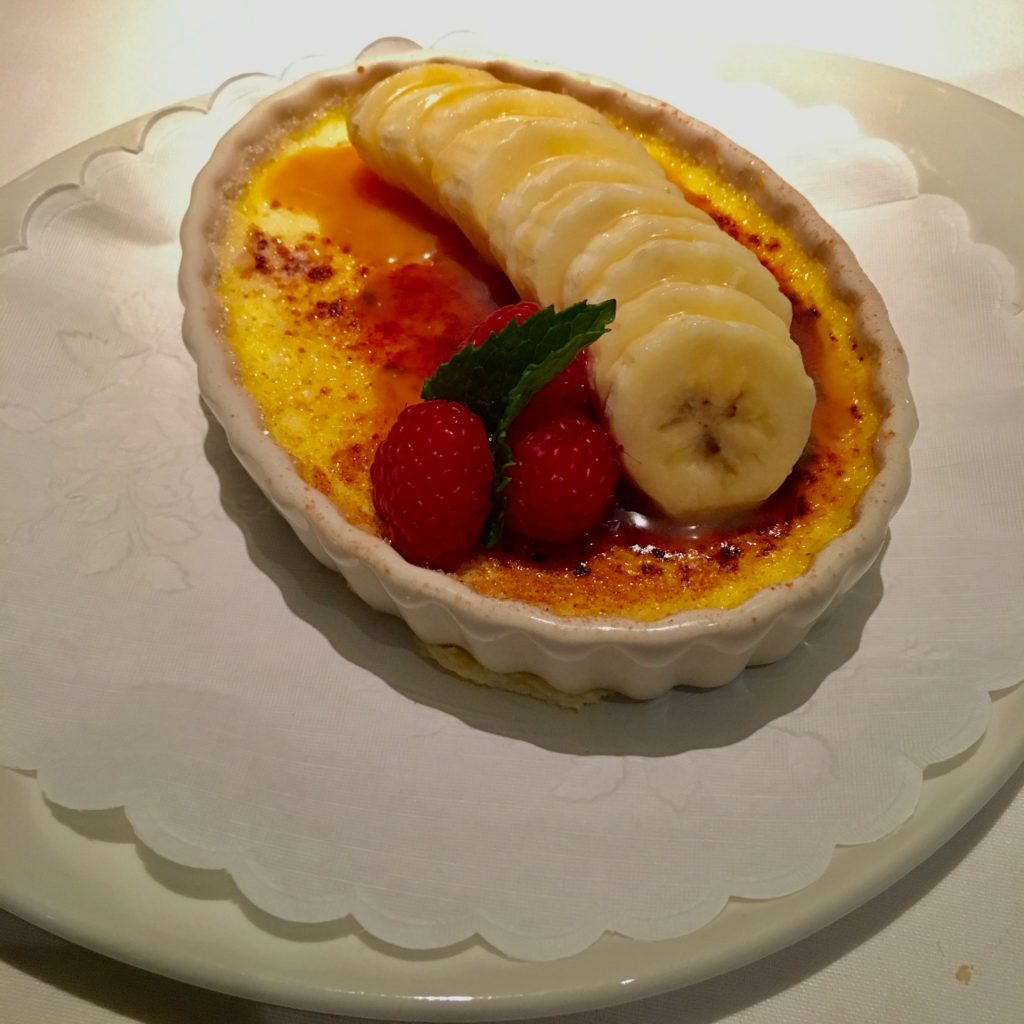 Our final choice of the evening was the Bananas Foster Creme Brulee. While beautifully presented, totally "Instagram-able" and overall enjoyable, I again think there was a missed opportunity to make this dish truly delicious. When the title of the dish says "Bananas Fosters" I expect the bananas to be caramelized! They were served raw on top of the creme brulee. I LOVE warm, sweet, melt in your mouth caramelized bananas and was truly shocked and disappointed with that lackluster aspect of this dessert.

Overall we had an okay trip to the Grand Concourse Restaurant and I really am lucky to be treated to a meal at a fine dining establishment. The atmosphere is very picturesque and interesting with charming notes to history everywhere you look. Our service was friendly and professional. Our meals we're of good quality overall, just lacking in flavour and that extra deliciousness that I crave when I'm going out for a fine-dining meal. Maybe the cuisine is intentionally basic. During each course I wanted more. More dimensions of taste & seasoning. This is sounding like the harshest I've ever been on a restaurant I've written about. I however don't think I am being very subjectively opinionated. These critiques are just the truth from my objective experience. I'm not an expert food critic, nor a food photographer, just sharing my experience in comparison to other fine dining experiences I've also shared on my blog. It's still a given that every Pittsburgher should experience the atmosphere of the iconic Grand Concourse for themselves, just like we all should indulge in a Primanti's sandwich.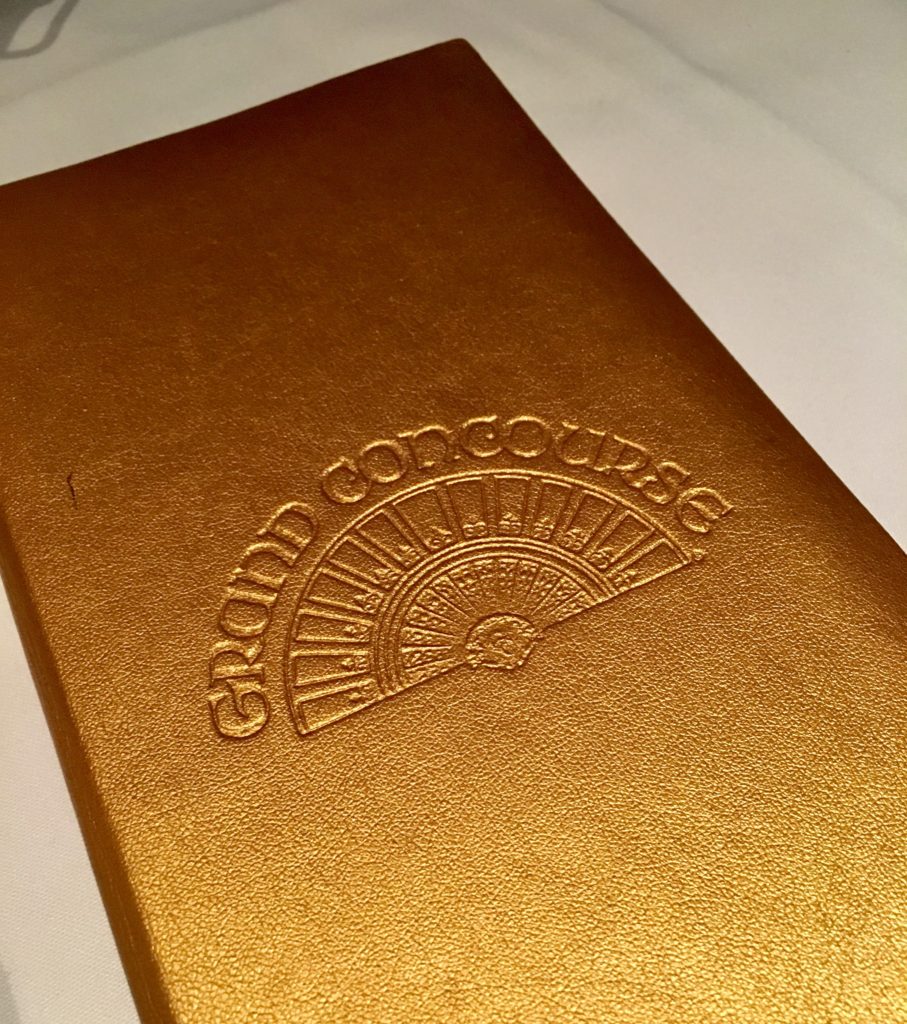 Save
Save