Do you always have overripe bananas, too mushy to enjoy?  I am often guilty of this food crime. I love to hide overdue bananas in a cake or loaf, with carrots! Yes a cake with both a fruit and a vegetable can be delicious. Check out the recipe below to easily create a moist & flavorful cake with ingredients you probably already have in your pantry, but never thought could create a cake! My pantry is always stocked with these versatile items, from my local Pittsburgh Giant Eagle.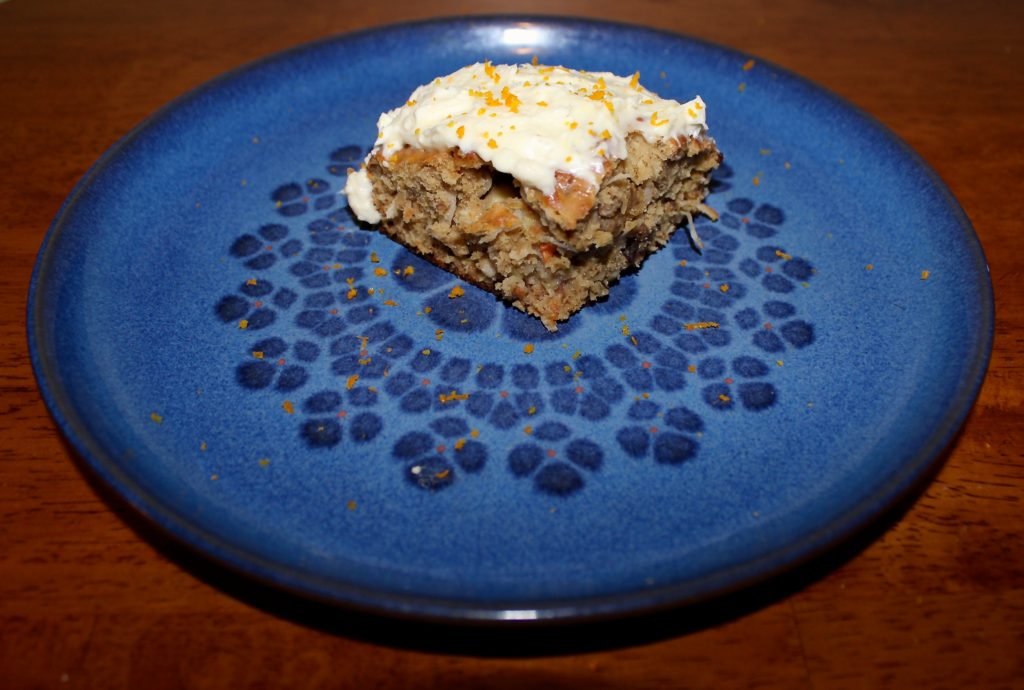 Overripe Banana & Carrot Loaf Cake Ingredients
2 cups all-purpose flour
1 teaspoon baking soda
1/2 teaspoon salt
1/2 teaspoon cinnamon
1 cup mashed overripe bananas (about 3 bananas)
3/4 cup mix of light & dark brown sugar
1/2 cup  vegetable oil
1/4 cup coconut
1/4 cup finely chopped pecans
2 large eggs
1/2 teaspoon vanilla extract
1 cup finely shredded carrot
vest of one large navel orange
Cream Cheese Icing
2 tablespoons butter, softened
8 oz block of cream cheese, softened
3/4 cup powdered sugar (more or less depending on sweetness you want)
3 tablespoons whipping cream (more or less depending on consistency you want)
1/2 teaspoon of vanilla extract
vest of 1/2 of a large navel orange
Recipe Execution
Heat oven to 350 degrees. Prepare a 9×5-inch loaf pan or sheet cake pan by spraying with cooking spray or lining with parchment paper. Set aside.
In large bowl combine the flour, baking soda, salt, cinnamon and stir.
In a separate bowl combine mashed banana, brown sugar, oil, eggs, and vanilla extract to whisk together.
Pour the wet ingredients into the dry ingredients bowl. Add the shredded carrots, coconut, pecans, & orange vest gently mixing together until combined with no flour pockets.
Pour into prepared pans.
Bake the thinner cake pan for 25-30 minutes. Bake the larger loaf pan for 50-60 minutes. Or when a toothpick or fork comes out clean.
Let cool completely.
To make cream cheese icing: Use a hand mixer to blend the butter and cream cheese together. Add in the powdered sugar, vanilla and the cream and blend until creamy. You may want more or less cream depending on the consistency you desire.
Save
Save
Save
Save