The International Builder's Show + the Kitchen and Bath Show are held each year together as Design and Construction Week. Truly creating the ultimate 3-day home design & construction industry trade show. The largest, most overwhelming seemingly endless marketplace full of anything and everything it could possibly take to build anyone's dream home. From high-end design trends to everyday fixtures, its seriously insanity the amount of things that are exhibited here. From building materials, to hot tubs, ovens, decking, cabinets, elevators and security systems. If it goes into a home or is somehow at all a part of buying or building a home, you'll find it here.
I've been lucky enough to witness the fascinating insanity of the show for the past 3 years, through my day job. I see as much of the show as I can on my breaks from working. To be quite honest I mostly see the show floor when I get lost on the convention floor. And I get lost every time I have to go to the bathroom or get food. It's that easy to get distracted by all the exhibits and lose track of where you are in the midst of it all.
I took so many quick snaps of things that caught my eye on the show floor. I've finally found the energy to digest and dig through them, in order to edit & share. Here's a few shots of what I found most interesting from the 2017 International Builder's Show & the Kitchen and Bath Show.
Wine Storage Goals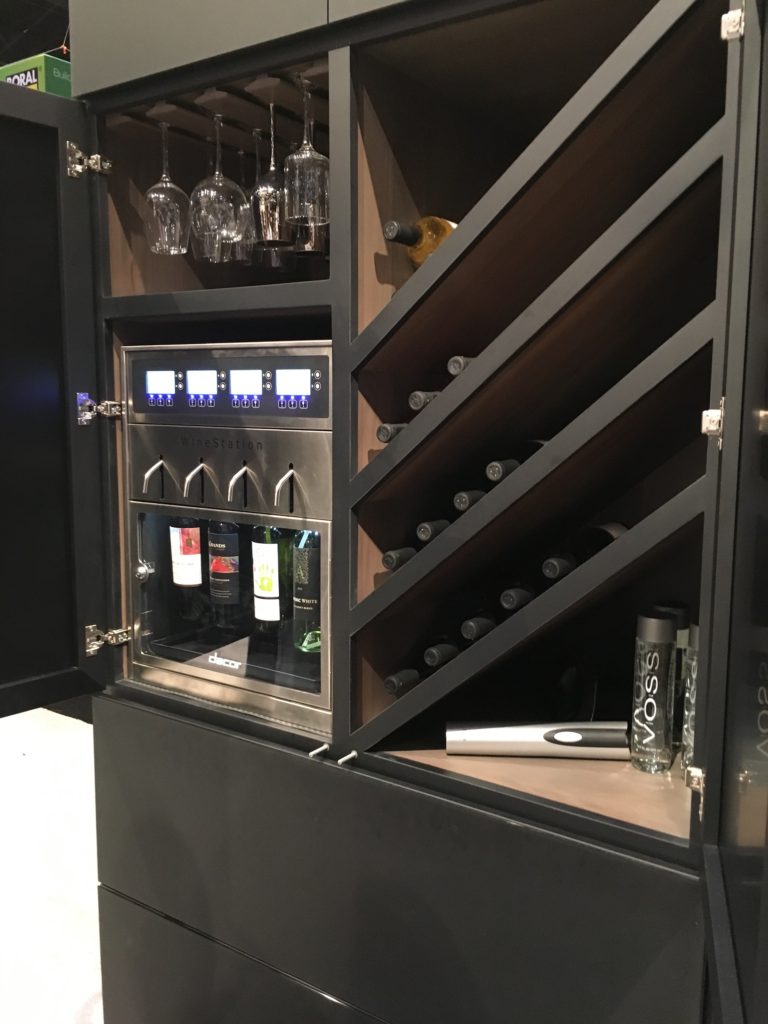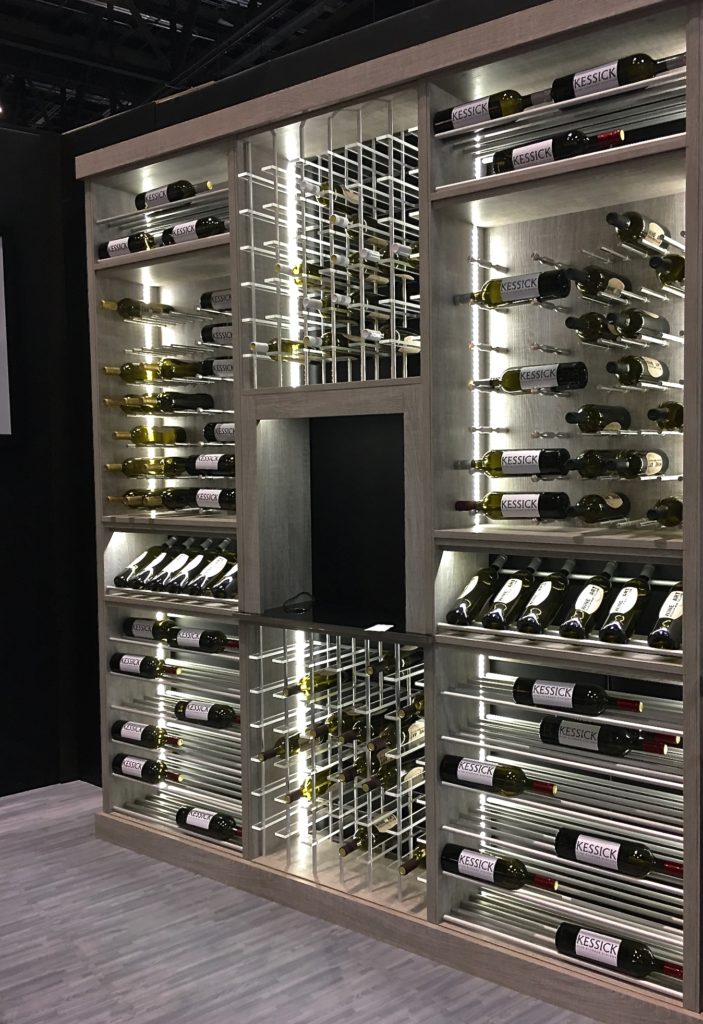 Kitchen Trends
While browns really aren't my preferred color scheme I love the lights in this kitchen showcase, and the fact that the cabinets look so earthy. Seeing cabinets that actually resemble real wood, is a refreshing new trend.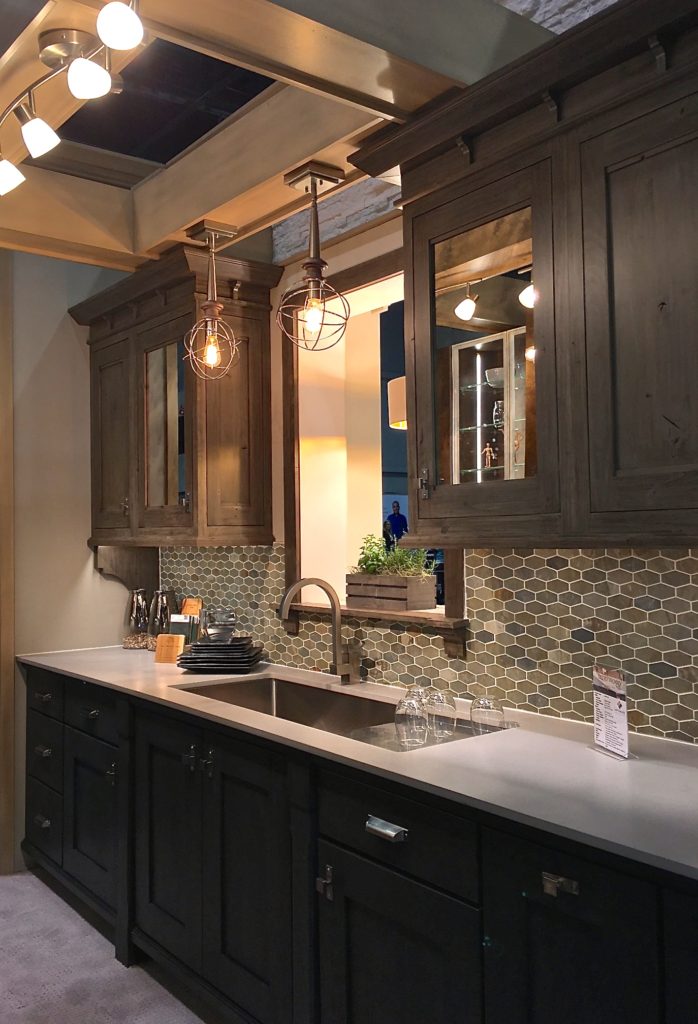 I love the open shelving, perfect for displaying unique pieces and the built-in wine storage of course. I'm not a fan of apron sinks, but I love the ornate curvy gold faucets. By Tedd Wood Fine Cabinetry.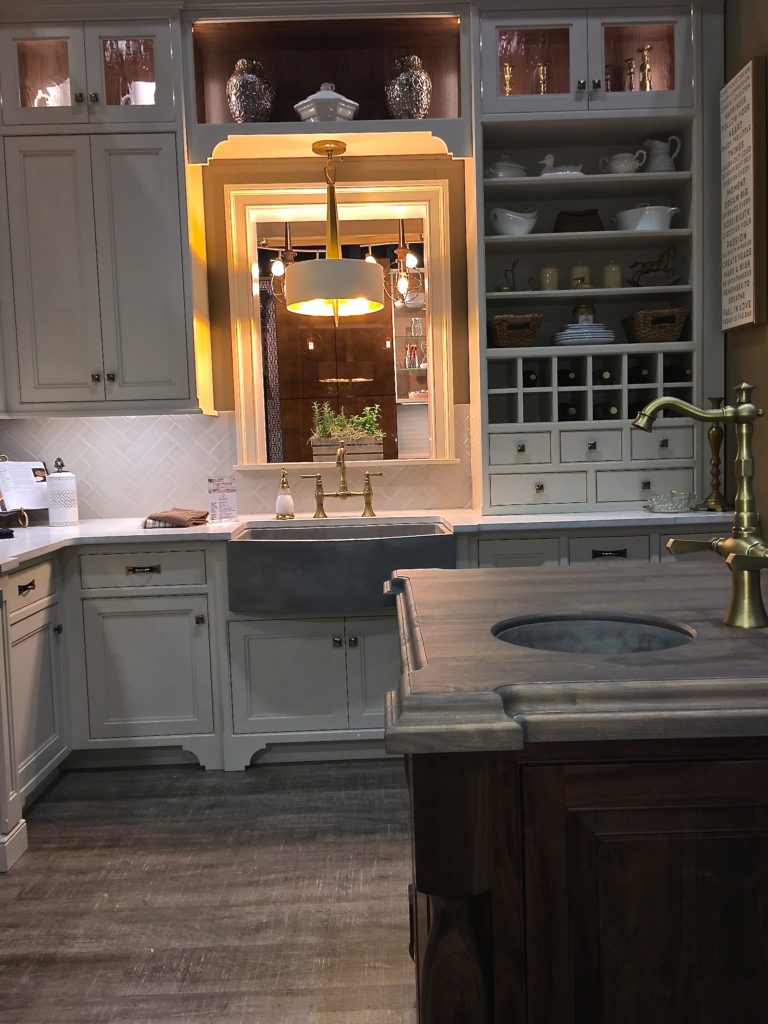 These next three high-end kitchen show rooms were definitely standouts. I of course love the gold and the french style by La Cornue.
The mix of cabinets and open shelving and visible wood grain are both definitely on trend.
This unique gold back splash definitely caught my eye in the Wellborn Cabinets booth. I'm always for a little glitz 🙂 This is their Aspire collection.
The subway tile, grey cabinets, rustic oven hood, farmhouse chairs and magnolia centerpiece in this space screams Joanna Gaines.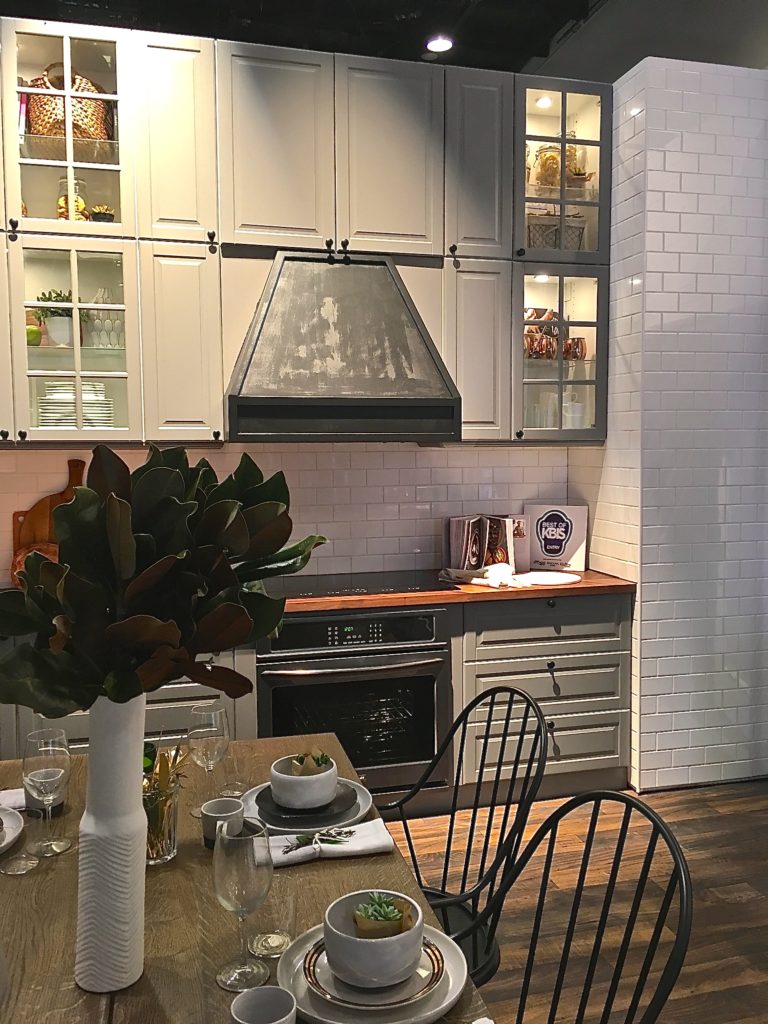 This space might be a bit modern for me, but I was really drawn to the metallic oversized subway tile.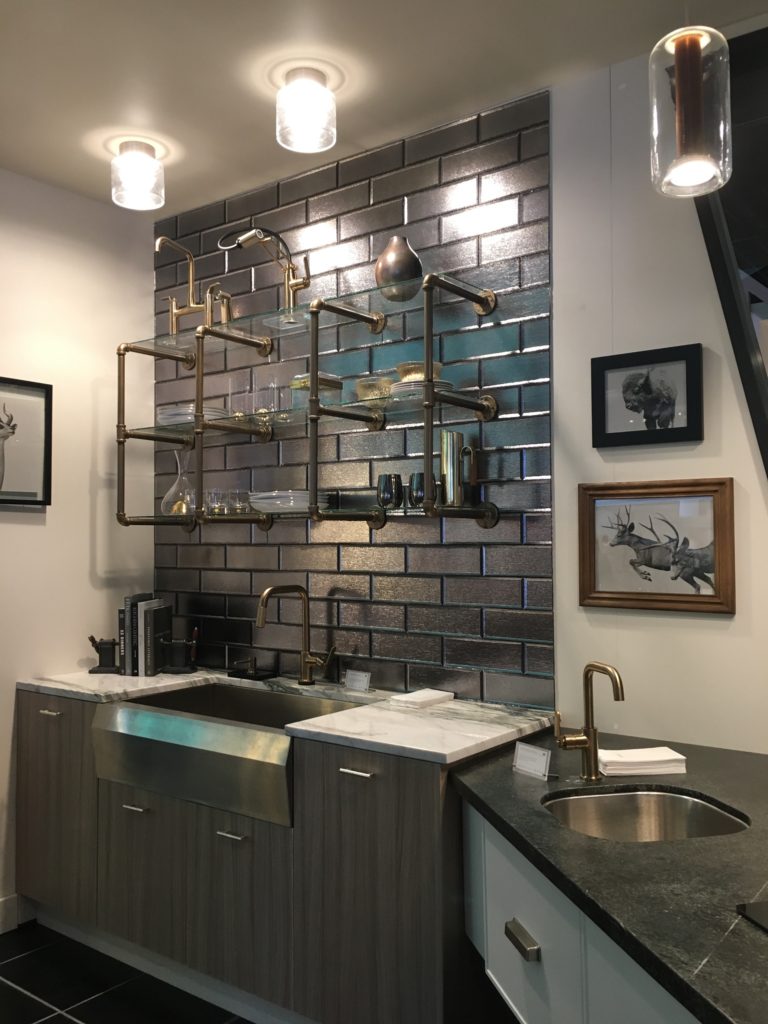 Definitely spotted the white marble & copper / rose gold trend a few places throughout the show.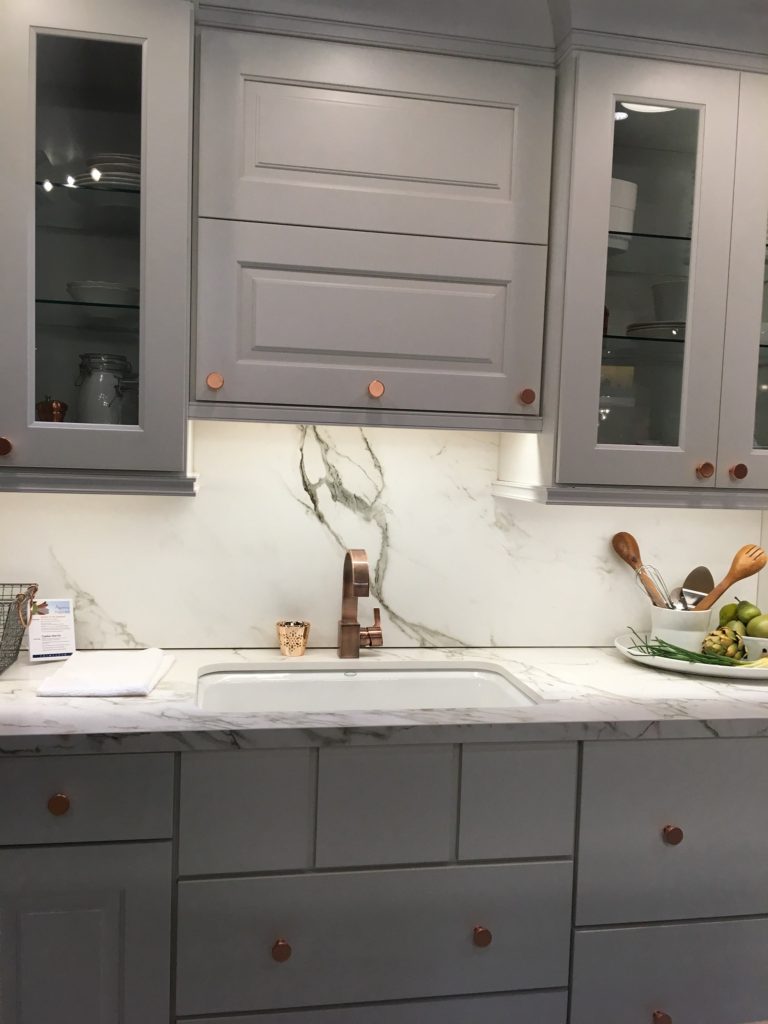 I LOVE this bright shiny range hood.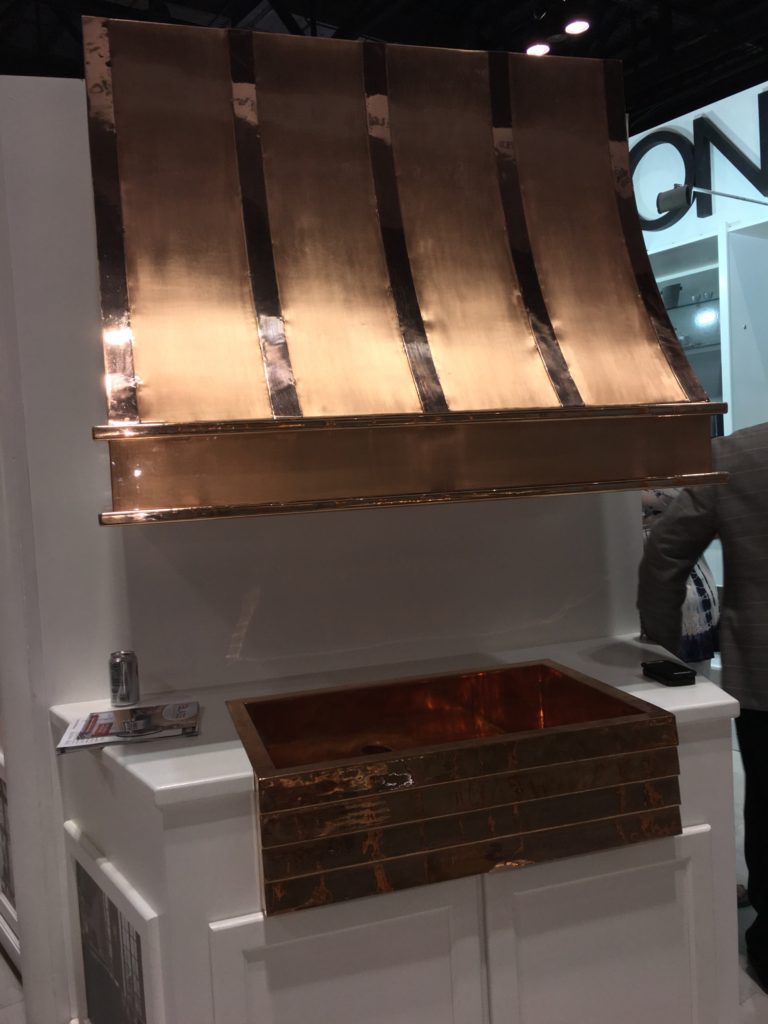 I was most intrigued with this space featuring a smokey, mercury glass mirror and copper touches. Kinda busy, but kind of mesmerizing too.
There was truly something here for everyone, no matter your style or taste.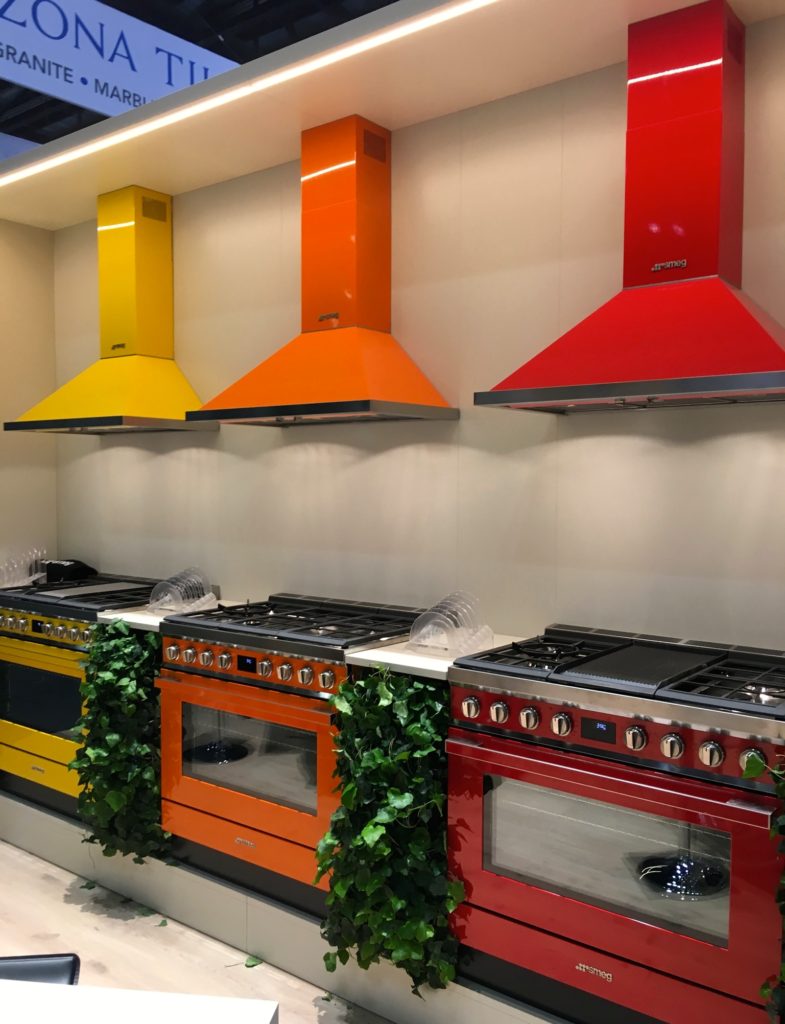 I even fond a precious teapot pendant light!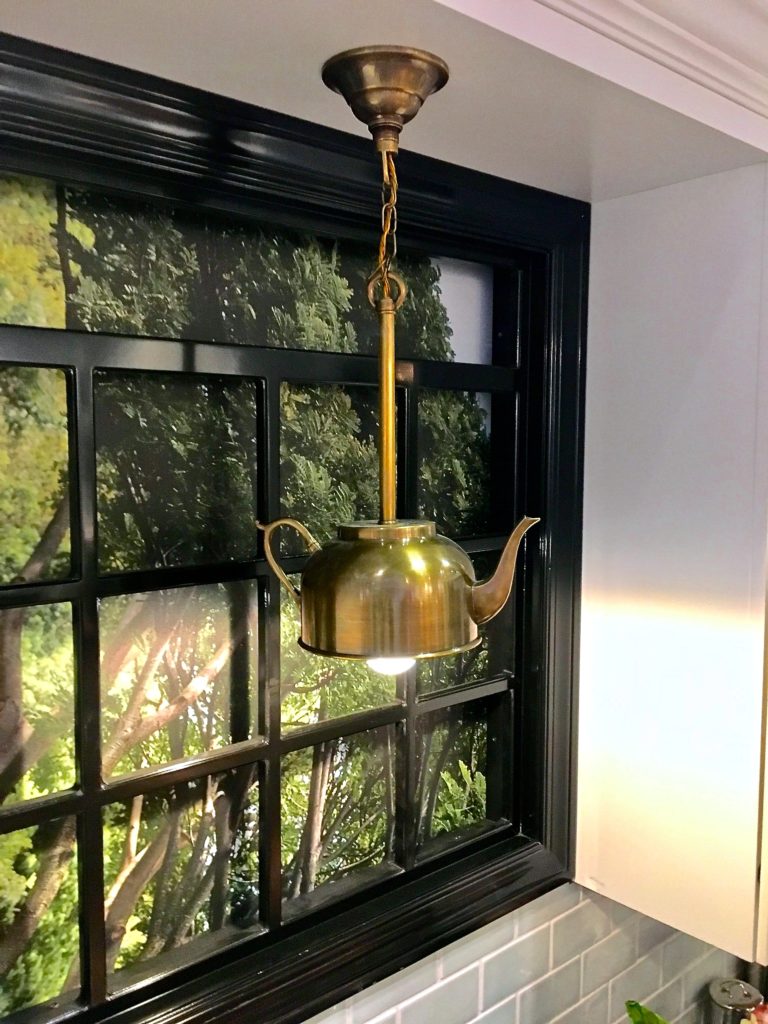 And a space dedicated to one of life's best elements, COFFEE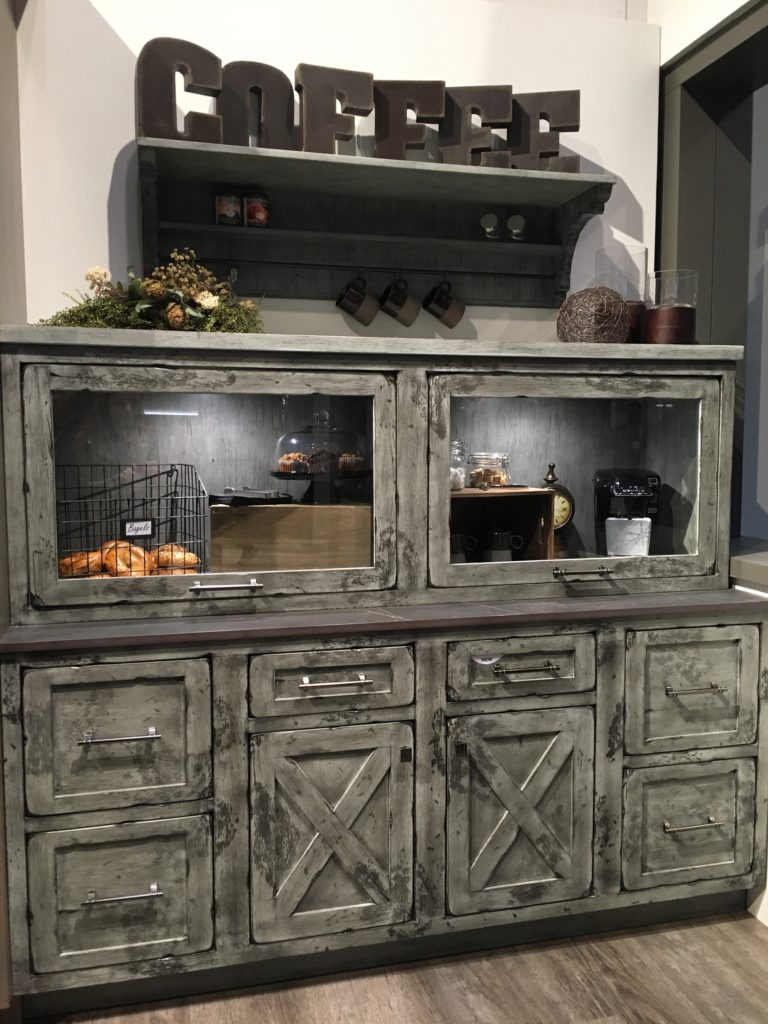 Grandeur Granite
This purple marble palace was a jaw-dropper. How do they even dream this up, let alone get this inside the convention center? Purple & gold are my favorite colors, so I couldn't help but stop to snap a few pictures of this completely over the top display.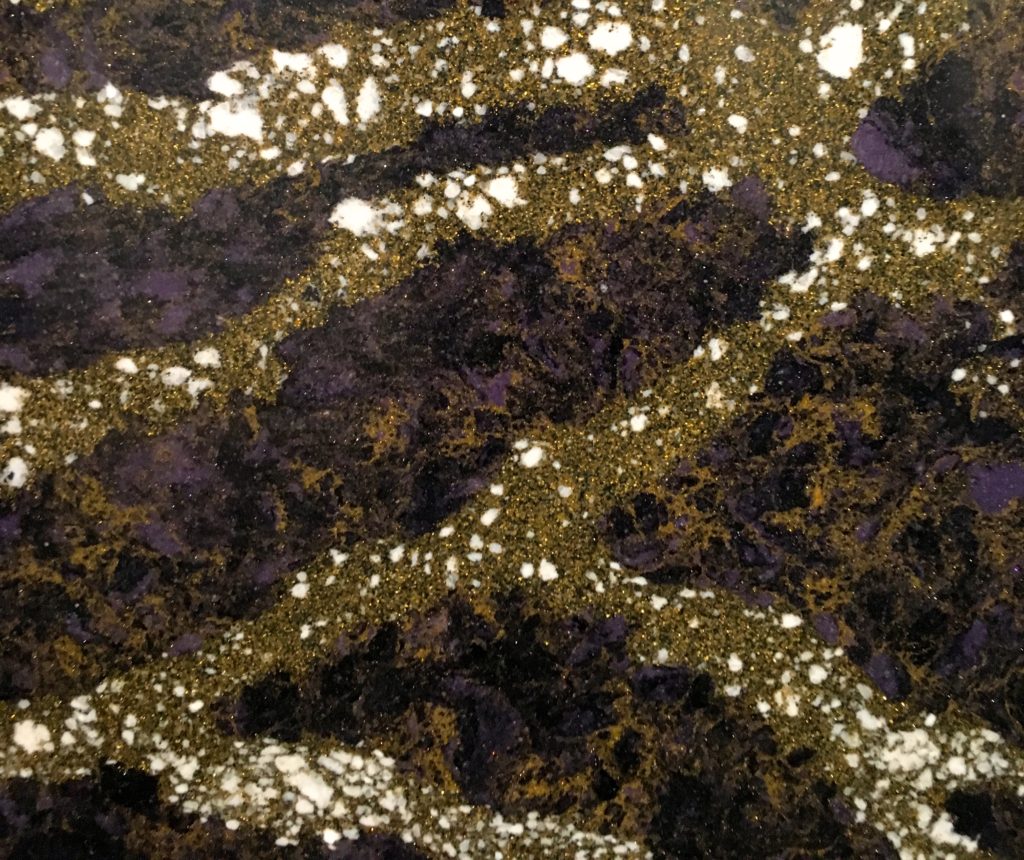 Beautiful Bathrooms
I was drawn to this lighting & faucet, but does anyone else think floating vanities are weird-looking? I'm also not a fan of a shiny black toilet.

Now this just look's like a scene from the Gatsby movie.
Everywhere you looked there was a touch of artistry, whether on the wall or in a sink basin.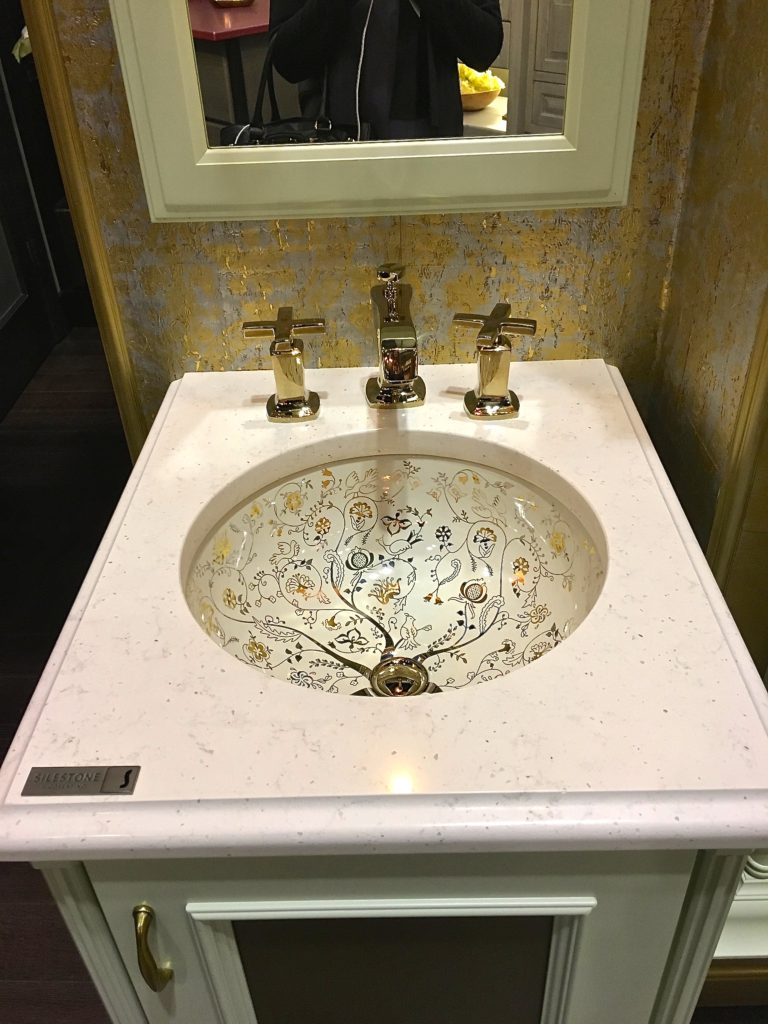 Earthy space inspired by MasterBrand.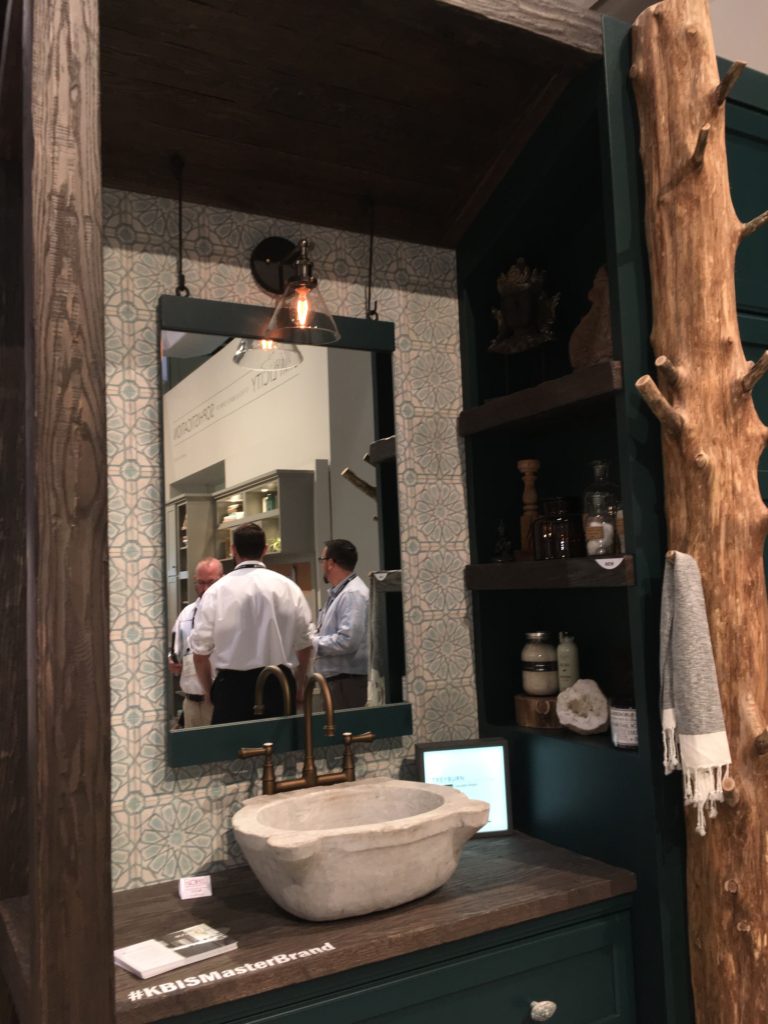 I also spotted a vanity space fit for a Tiffany's fan.
Last but not least was this breath taking Italian marble palace by Antolini.
Oh and by the way I made a few new friends 😉 some you may recognize.
It's not too hard to get carried away imagining a dream home after a visit to the International Builder's Show + the Kitchen and Bath Show.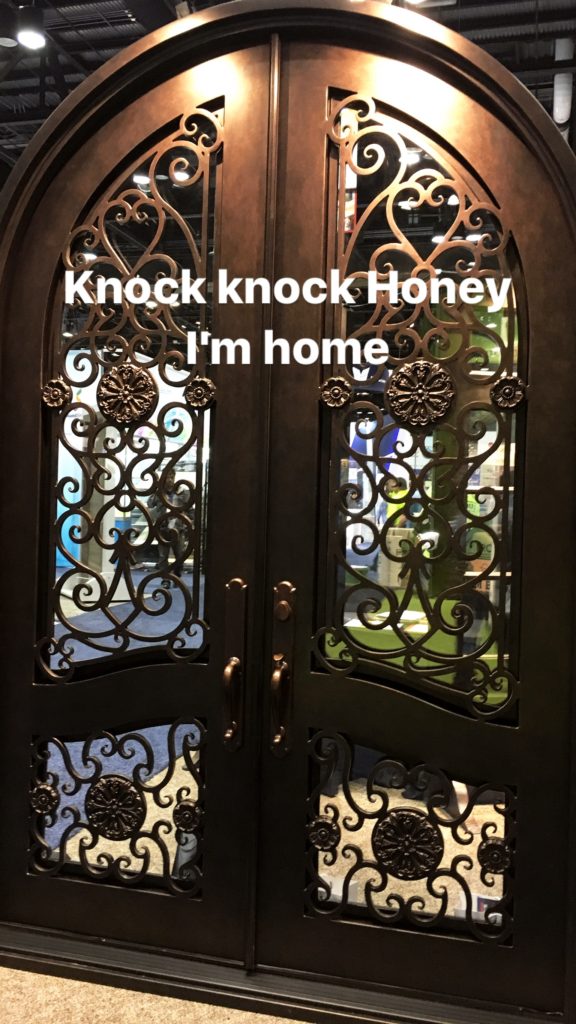 Save
Save
Save
Save
Save
Save
Save
Save
Save
Save
Save
Save
Save
Save
Save
Save
Save
Save
Save
Save
Save
Save
Save
Save
Save
Save