The only full bathroom renovation is the biggest project we've taken on in this tiny apartment, and it is proving to have the biggest impact! With the neutral tile we selected, I wanted to have a little fun with the paint color. I picked Spruce Shade by PPG Paints from the Voice of Color palette. I was drawn to this color having really been inspired by the 2016 paint color of the year, Paradise Found. This Spruce Shade paint color is a just a bit lighter and brighter than Paradise Found, which is a bit more of an army and natural green.
By the way if you're in the market for paint here is a 25% off coupon for PPG Paints paints and 25% off sundries like brushes & other supplies.
I seriously love the color. It is a fun color, but still a subtle & soft backdrop for such a small space. The neutral tile, white trim and natural light in the space really bring everything together.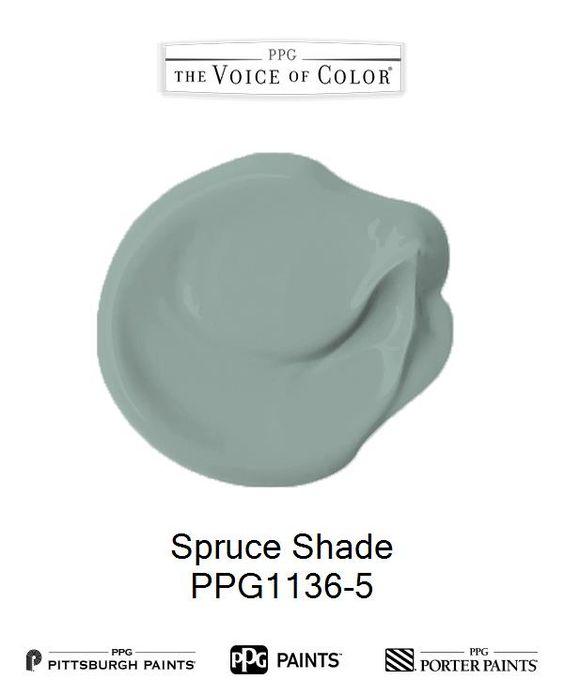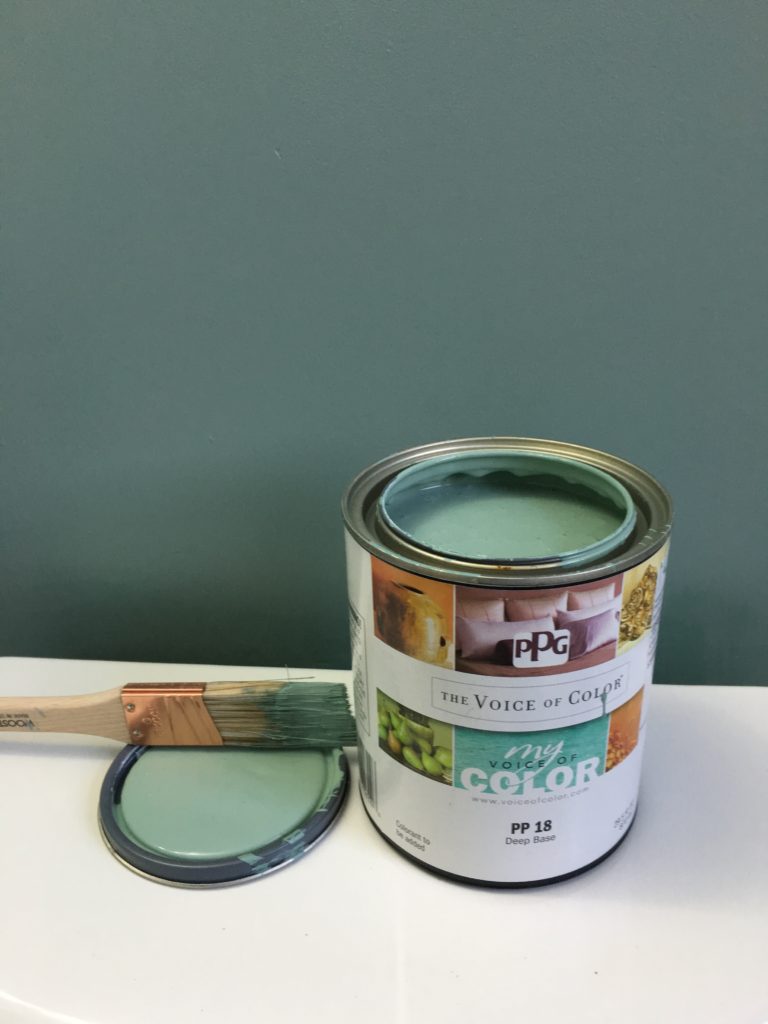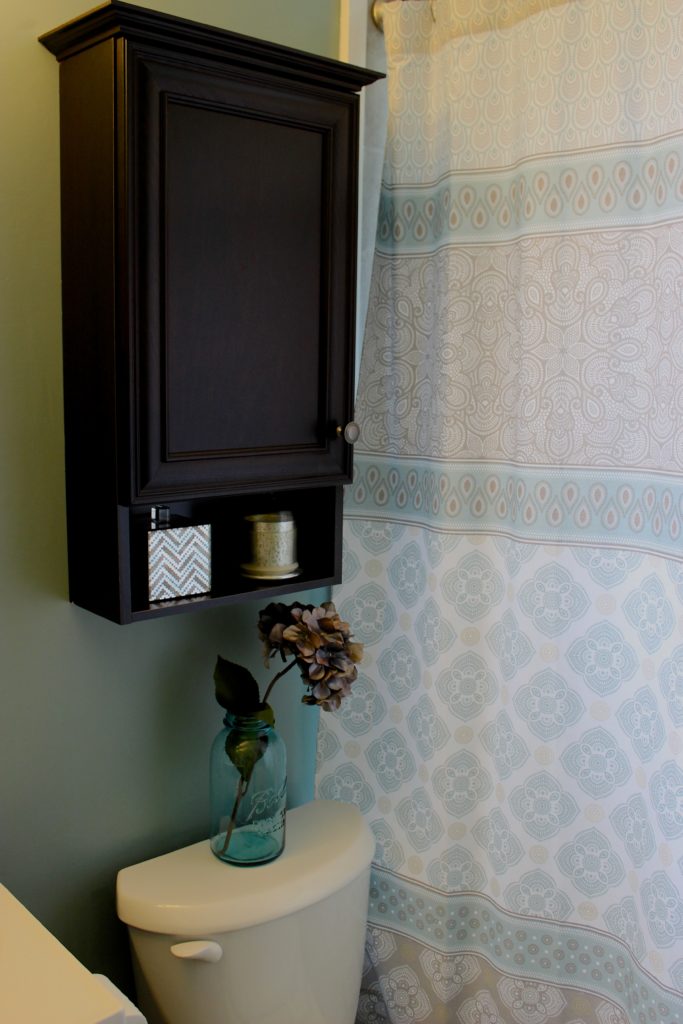 Finding the perfect shower curtain ties the color scheme all together at Home Goods by Cynthia Rowley.
The most trying DIY project of this entire flip as been installing this bathroom storage cabinet. I was insistent on installing one as there is ZERO storage space in the entire apartment, and you always need storage in the bathroom, right? It was awful. Seriously beware, you think this project is simple and straight forward, but it wasn't. Finding a stud proved to be impossible, so instead we had to use screws with anchors to secure it to the wall.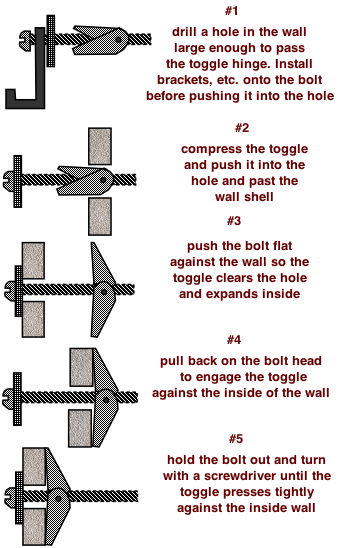 It was frightening the size of the hole we had to screw into our old and thin walls to get the spring fasteners through. The mounting process calls for putting the screws first through the cabinet then through the hole in the wall, which left us blind to seeing what was going on during installation. This was combined with the struggle of trying to hold the heavy cabinet steady and in its level place. There was a bit of shrill shrieking involved in the mounting process. I thought the whole thing was going to come crashing down with half of the wall at one point. But alas we did it! It is still (knock on wood) hanging and serves exactly the function and purpose we need in the space.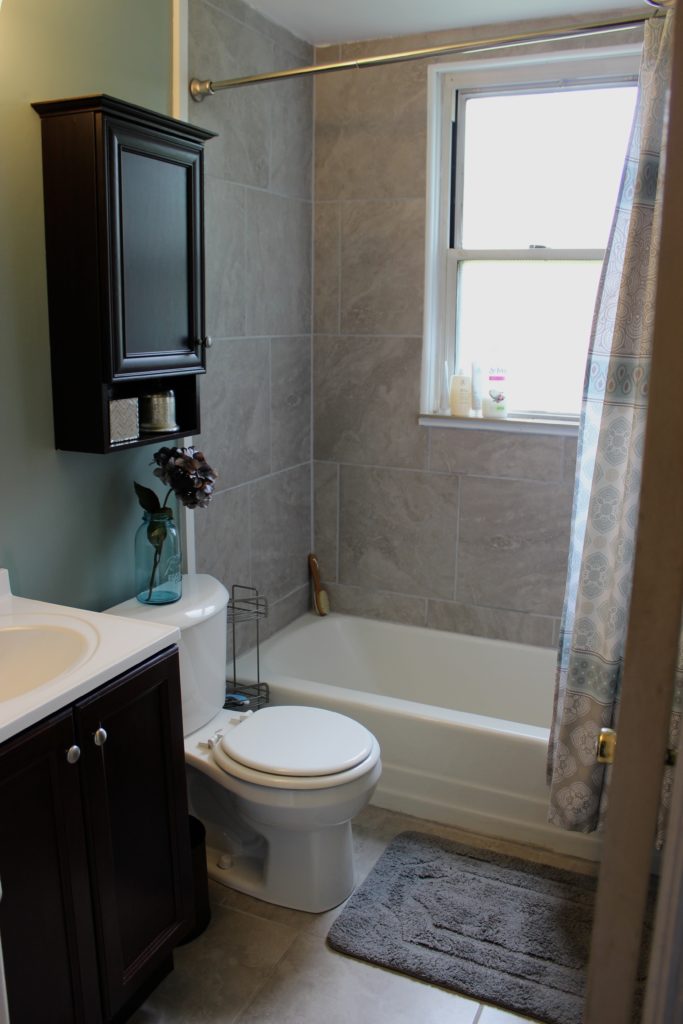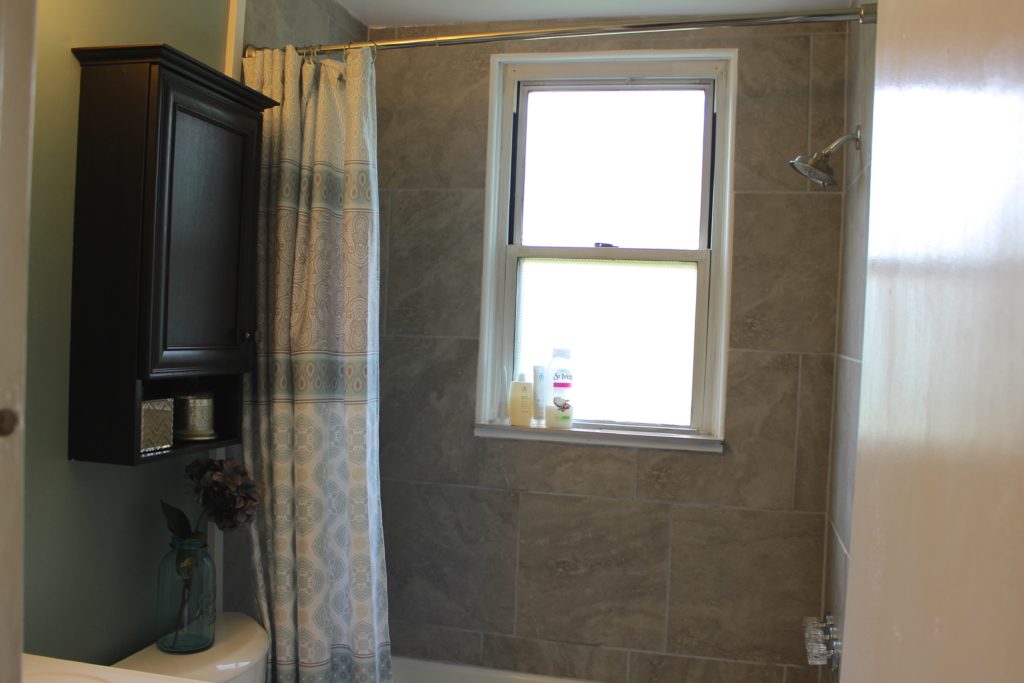 I incorporated a few pieces of silver mercury glass, a unique soap dispenser from Home Goods, and a vintage turquoise Ball mason jar for accessories.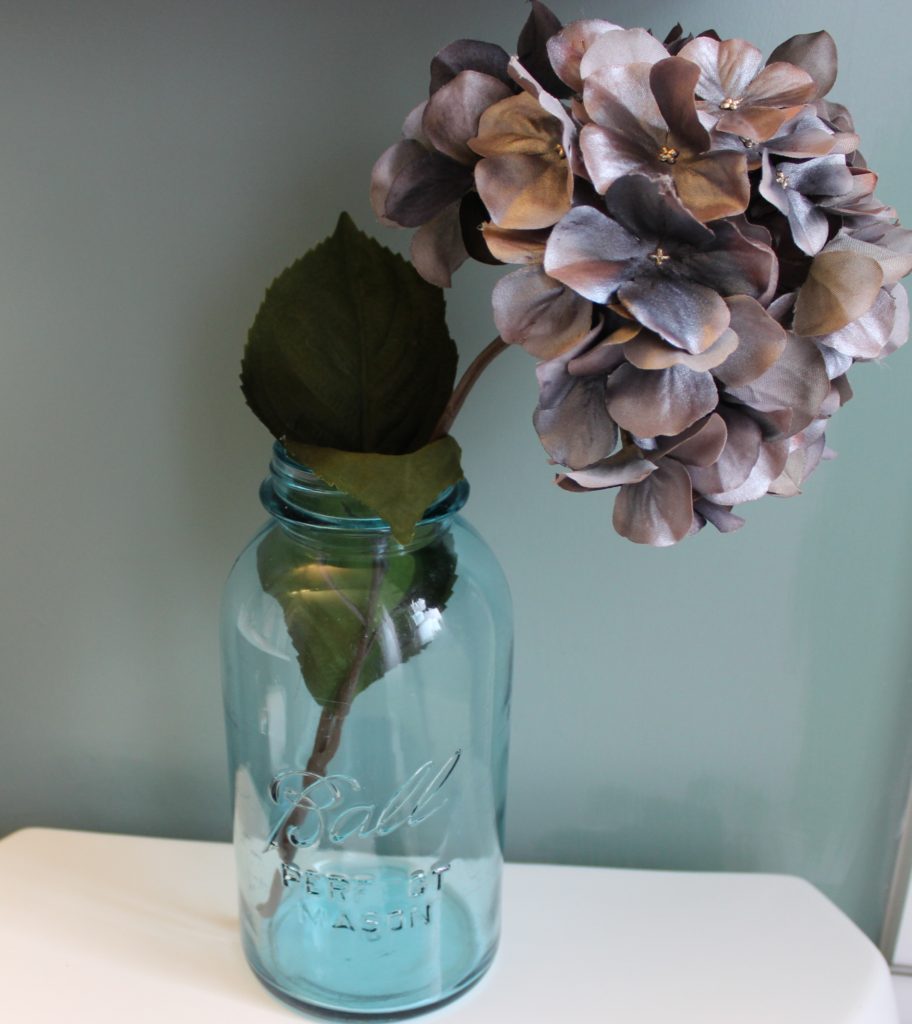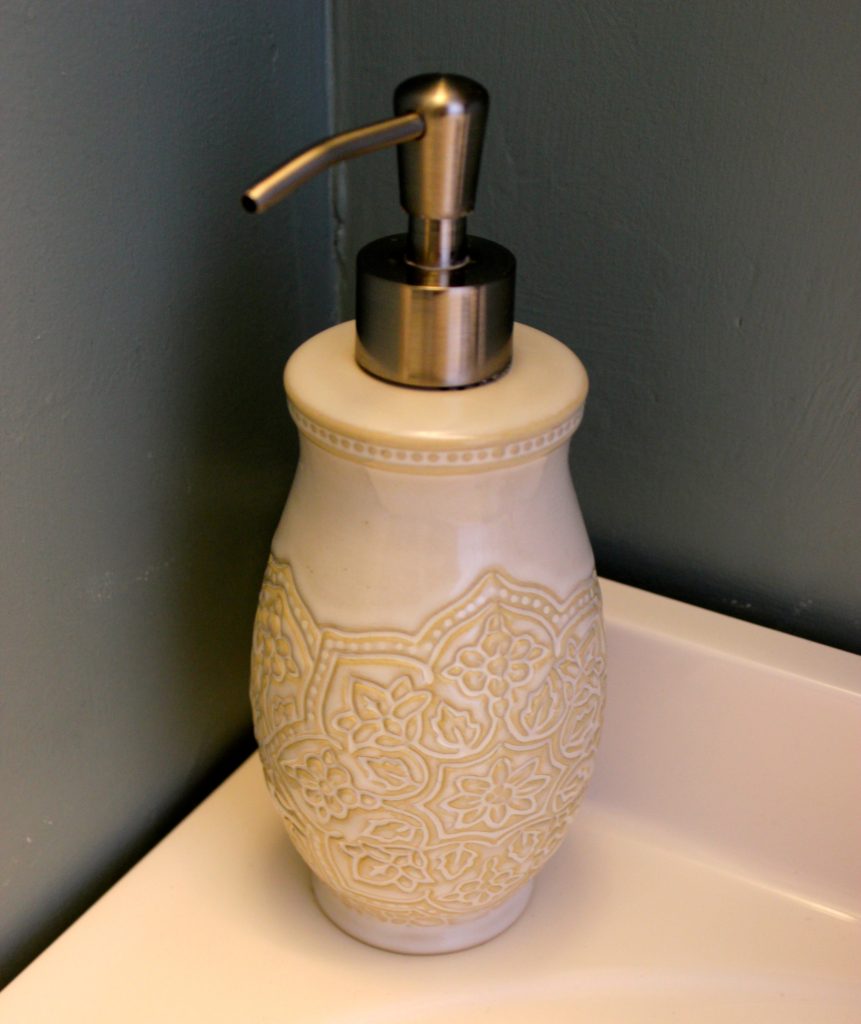 If the light fixture looks like it is upside down to you, it is. Remember that contractor I wrote about before, yeah he didn't account for enough room to hang it the right way, with the bulbs down. When I hunted him down to (politely, with serious restraint) ask him why it was like that.  He tried to convince me that the light is designed to be hung either way. Ahh yeah, okay mister! There's nothing we can do about it now. Acceptance at the time was a struggle. Again this isn't a home it's a rental unit, perspective is key.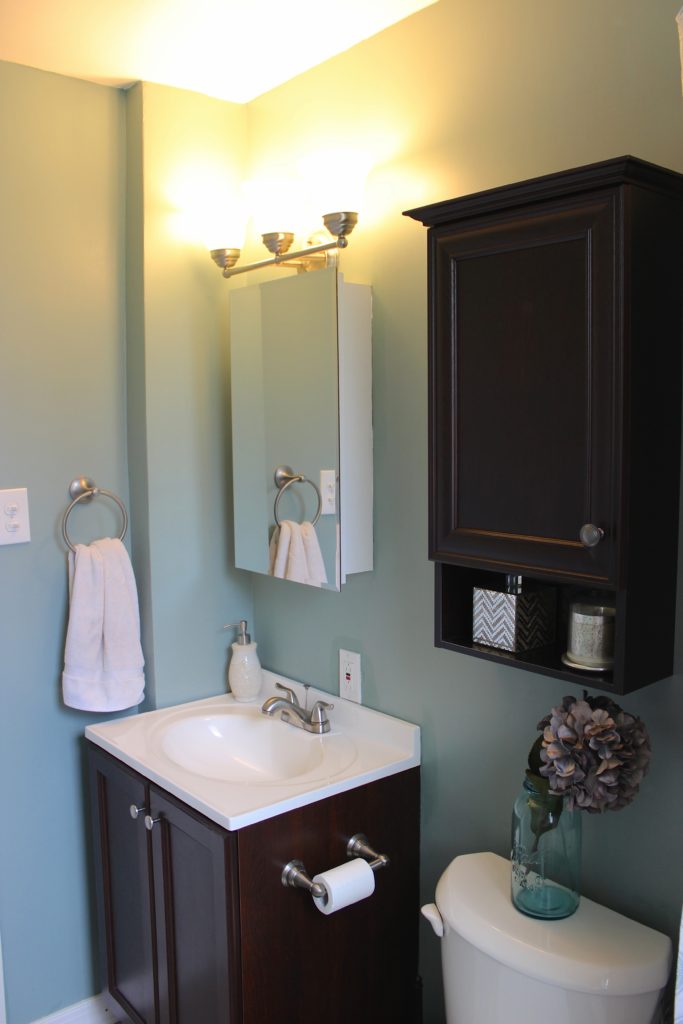 All in all I am pleased with the bathroom. Remember the before?
Looking back now, I do wish there could have been budget to select a vanity with a counter top other than generic builder grade white. Did I mention that my BF + I are living in this apartment for the time being? The white shows dirt and hair easily, and is impossible to keep visually clean. This apparently causes a lot of frustration for my BF because my hair "Is everywhere". Doesn't bother me so much, as I am used to it. This is one of many joys of living in a very basic, TINY apartment with a significant other 🙂 Perspective is key to move past these tiny annoyances of everyday life.
Speaking of budgets, here is an estimated list of costs involved in flipping this tiny Pittsburgh bathroom:
$2,765
Contractor fees : $2,000
Paint: $20
Hardiebacker: $50
Tile & grout : $100
Vanity $139  – Glacier Bay package from the Home Depot included the cabinet, sink counter top, fixture and plumbing!  Similar to this package
Medicine Cabinet : $60 – extremely basic version from the Home Depot (I did NOT get to pick it)
Toilet: $150 – middle of the range from the Home Depot
Light – $65 – extremely basic version from the Home Depot
Over the toilet storage cabinet – $79 from the Home Depot
Toilet Roll Holder : $15
Soap Dispenser: $12
Shower Curtain: $25
Our sanity, free time ( sometimes hours making purchase decisions at the Home Depot) and labor: $PRICELESS
Here is proof that I am an amazing DIYer (haha). I installed the sink plumbing myself, because the contractors left without doing it (of course) and BF's hands were too big for the tiny space.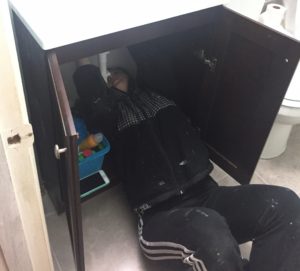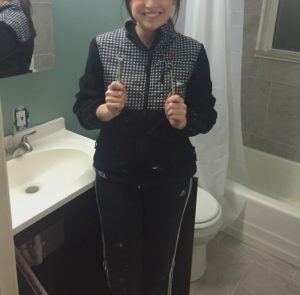 Overall, yes this is a very basic, straightforward, budget bathroom update. But it's the journey into the unknown realm of renovation we took together as a couple – that is the story. We did it. That's why we are so proud of this bathroom. It might not be grand, but hey for now, home is where the wine is!
Words of Wisdom: Breathe. It will all work out! 
Tackling a first ever flip or renovation project as a 25 year old couple is hard. Make sure to have an open mind and agreement on the scope and costs of the project. Keep in mind what you need in the finished project, and use that to help you make decisions that fit in scope and budget. We knew we had limited space and budget, so we enhanced the tiny space filled with cheap materials with a beautiful paint color and fun shower curtain.
We learned that a good contractor is a must. We'd suggest asking around until you settle on a contractor that has that great word of mouth street cred. We tried to motivate the contractor by saying we were hoping this project turns out great because we'd love to work on future projects together and refer them to our network. We'd suggested having a list of names of people wanting to see the work on your project, as they prepare to hire for their own. Direct referrals are a contractor's golden ticket. Communicating proactively and clearly, plus having a paper trail of directions and decisions is a must to fall back on, in the case of anything going differently than planned.
Pin this project inspiration now!
Save
Save
Save
Save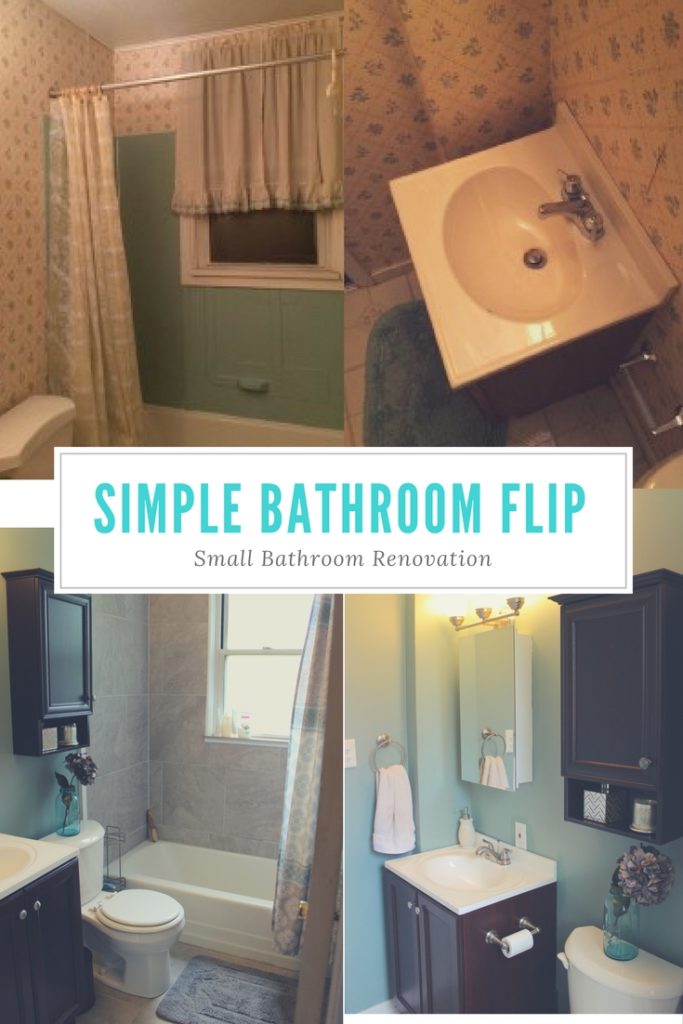 Save
Save
Save
Save
Save
Save
Save
Save
Save
Save
Save
Save
Save
Save
Save
Save
Save
Save
Save
Save
Save
Save