Before I moved to the North Hills of Pittsburgh, I wasn't at all familiar with the area. My only experience with the area was the Ross Park Mall on the central McKnight Road. One pre-move renovation day, two 26 year old guys working hard to install laminate turned hungry. I had been attempting to remove the most hellishly suborn wallpaper for a solid 6 hours, so I turned to trusty google to discover take out options in the area. I'm not the pizza or sub kind of gal, and I really wanted to reward myself for battling the impossible to remove wallpaper, so I looked for Thai. My search lead me to the Red Orchid on Babcock Boulevard, less than 10 minutes away. Our take-out Thai more than satisfied, definitely the reward 3 reno crazed people needed. My BF and I have been hooked on Red's Orchid's Thai food ever since. They've recently expanded their dine in area, which my BF and I finally took advantage of this past Saturday.
We started with, what else other than, the classic default Asian appetizer of Crab Rangoon.
My go-to main dish order is the Green Curry with shrimp, which consists of broccoli, green beans, bell peppers, eggplant, basil mixed in a green curry paste & coconut milk. It is delicious, but seriously spicy. I order the lowest spice level at a 1 and it stills instantly makes me cough, my nose run and indigestion instantly flare… but I still LOVE the taste. Seriously it's delicious, even if I can only handle a bit at a time. Usually when I order take out I combat the spice by adding more coconut milk or yogurt. I am sissy when it comes to spicy, but truly even my BF thinks it is spicy for a level 1.
My BF tried something new, the Thai Panang curry with coconut milk prepared with broccoli, carrots and bell peppers. He ordered a spice level 5, so I was too scared to try it myself.
We also ordered my other favorite dish, the Pineapple fried rice. Its stir fried with egg, pineapple, cashews, carrots, onion, scallions, and raisins which all combine to create the most delicious nutty flavor. Once I start eating this dish, I have a hard time stopping.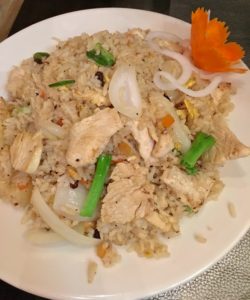 I would really encourage anyone in the North Hills area to step up their takeout experience by ordering from the Red Orchid, or to stop in for the dine-in experience.
Save
Save
Save